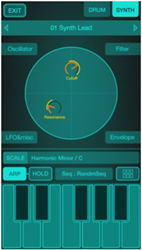 ANAHEIM (PRWEB) February 02, 2015
At the recent 2015 NAMM, Show Yamaha showcased Yamaha Synth Book – an iOS app featuring a history book, built-in softsynth and a community portal for Yamaha Synth owners. The history section features a detailed and fascinating history of Yamaha's 40 years of synthesizer manufacturing from the SY1 to today's industry-defining MotifXF.
Yamaha Synth Book also includes the AN2015 virtual analog softsynth with 50 instrument Voices, a polyphonic pad and drums. The AN2015 can be played from any MIDI keyboard like the Yamaha MX or MotifXF. When connected to the MOXF via the Apple Lightning to USB Camera Adapter, players can control the AN2015 and hear its audio through the MOXF.
For more information, visit http://4wrd.it/yamahasynth.
-END-
About Yamaha
Yamaha Corporation of America (YCA) is one of the largest subsidiaries of Yamaha Corporation, Japan and offers a full line of award-winning musical instruments, sound reinforcement and home entertainment products to the U.S. market. Products include: Yamaha acoustic, digital and hybrid pianos, portable keyboards, guitars, acoustic and electronic drums, band and orchestral instruments, marching percussion products, synthesizers, professional digital and analog audio equipment, Steinberg recording products and Nexo commercial audio products, as well as AV receivers, amplifiers, Blu-ray/CD players, iPod docking systems, home-theater-in-a-box systems, earphones, headphones, sound bars, and its exclusive line of Digital Sound Projectors. YCA markets innovative, finely crafted technology and entertainment products and musical instruments targeted to the hobbyist, education, worship, professional music, installation and consumer markets.