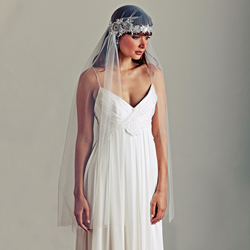 (PRWEB UK) 31 January 2015
The wedding veil has made a significant comeback since the Royal Wedding in 2011 and is now the best selling type of veil for Crystal Bridal in 2015! Brides can choose from elbow, fingertip or full-on cathedral length veils which add a ceremonial and lavish finishing touch to their outfit. However, the more vintage-inspired Downton Abbey style pieces are specifically designed to make a fashion statement. The Juliet Cap veil sits closely to the head and more recent styles are becoming heavily embellished with crystals, pearls or appliques for a luxury touch.
The modern Juliet Cap veil has metamorphosed into an ethereal, luxury embellished accessory which appeals to brides searching for a truly feminine bridal look! The sheer tulle fabric of these stunning veils is ideal for a Bohemian inspired touch but the styling also perfectly complements any Deco or vintage gown. Whether brides choose crystals, beading or lace appliques to adorn their chosen veil, Juliet Cap veils have definitely become the most sought after wedding accessory in the new year!
"A wedding veil is the ultimate accessory choice for the modern bride - it's not every day that you wear a veil! We've noticed that Juliet Cap veils appeal to brides who are very tuned into high fashion and on-trend styling - it is a statement piece and as such brides demand that it is perfectly designed for them," says Amy Karim, owner of Crystal Bridal Accessories. "The Joyce Jackson veils we offer are perfect as they are made to order according to the brides specifications. If the bride wants a different tulle in an alternative length or less or more embellishments this can be created especially for her!"
"The Crystal Bridal Accessories website provides brides with a huge range of different styles of wedding veils which can occasionally make it difficult to choose. If a bride is looking for something specifically Vintage or Art Deco to match her gown, we always like to advise personally on which veil design will be the perfect match." adds Amy.
The Juliet Cap veil is available in five different designs on the Crystal Bridal Accessories website. Brides can choose from a range of tulles and colours as well as specifying the length of the veil they need. The Crystal Bridal Accessories team is always at hand to provide expert advice on choosing the right wedding veil.
END
About Crystal Bridal
Crystal Bridal Accessories is an innovative business specialising in accessories for weddings, parties, balls, proms and special occasions. The online boutique offers the entire range of wedding shoes by Charlotte Mills, Paradox London, Benjamin Adams, Rainbow Club, Harriet Wilde and Love Art Wear Art and quality wedding hair accessories by Louis Mariette, Halo and Co, Ivory and Co, and other brands made with genuine Swarovski crystals. Crystal Bridal Accessories also stock a range of wedding gloves, Joyce Jackson wedding veils, bridal sashes and Lily Bella bird cage veils. Crystal Bridal Accessories is for the bride, bridesmaids, mother-of-the bride and for anyone who loves shoes, jewellery and handbags.
Crystal Bridal Accessories has been nominated for finalist for the British Wedding Awards 2015, Nominee for the Wedding Industry Awards 2014, Perfect Wedding Magazine 2013 and 2014 and Wedding Ideas Magazine 2013 and 2014. The company was Highly Commended by Wedding Ideas Awards 2012 for contribution to Bridal Accessories.
Brides can shop online or visit the showroom in Meadowhall, Sheffield serving brides across Yorkshire. For further information or to request high resolution product images, please email us.