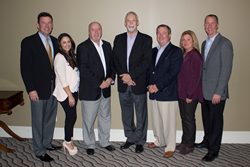 FOND DU LAC, WI (PRWEB) January 31, 2015
BCI Burke, commercial playground, park and recreation equipment with headquarters in Fond du Lac, Wisconsin, named American Recreational Products of New York state as the Distinguished Representative of 2014. The honor was announced at the company's annual sales conference held in Cocoa Beach, Florida recently.
Mike Phelan, Burke CEO, presented the award to Bob and Kevin Brown, owners of American Recreational Products, and detailed that this prominent annual tribute is based on the firm's commitment to annual growth, sales volume and fulfillment of sales goals. The Browns represent Burke in the state of New York.
"Bob and Kevin and their team have exemplified the Burke core values of Integrity, Innovation, and Respect for People, Teamwork, Leadership, and Performance in 2014. Burke was built on these values over 95 years ago, and we are honored to celebrate this milestone with them," Phelan said.
Buell Recreation, Child's Play, Inc., Playgrounds of the Carolinas, LLC, Miller & Associates Inc., Snider Recreation, Inc., American Recreational Products, PlayQuest Recreation, Ben Shaffer & Associates, Inc., ABCreative, AK Sales & Consulting, Inc and fun abounds were honored for a variety of achievements and performance in 2014.
BCI Burke's Reinventing PlayTM showcases continual improvement and premium customer commitment, as well as creating the highest quality playground, park and recreation products, backed by the best warranty in the industry. Celebrating 95 years this year, Burke has been an avid champion of engaging kids and families in healthy, challenging and safe play. For more information, visit http://www.bciburke.com.