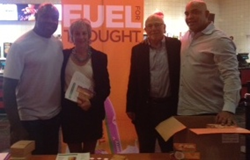 PHOENIX, AZ (PRWEB) January 29, 2015
The January 27th event featured an informative live Q&A with former NFL players Dave Robinson (Pro-Football Hall of Fame, former Green Bay Packer, Super Bowl I), Christian Okoye ("The Nigerian Nightmare", former player for the Kansas City Chiefs), Charlie Brown (former player for The Washington Redskins, Super Bowl XVII) and Ray Lucas (former quarterback for the New York Jets, New England Patriots, Miami Dolphins).
The former players made a presentation and shared their personal journeys about overcoming adversity due to football and discussed steps that can be taken to improve safety and optimize health. Some of the players sustained multiple concussions during their career, including Ray Lucas, who experienced over 19 concussions. Lucas discussed what can be done to improve symptoms related to brain trauma and the importance of protecting brain health.
During Super Bowl week, the former players participated in more than one hundred interviews from Radio Row in the Super Bowl NFL Media Center. They discussed proactive approaches and provided information to listeners nationwide about Fuel For Thought and the role that coconut and MCT oil play in supporting brain health.
"Our partnership with Fuel For Thought® is important because everyone should focus on their brain health and optimizing their brain's performance. Fuel For Thought® helps to support brain health," said William J. Focazio, founder and CEO of P.A.S.T. Retired Players Medical Group. "P.A.S.T. is utilizing Fuel For Thought for former NFL players and other athletes as part of the P.A.S.T brain health protocol."
P.A.S.T. is an organization that offers medical care and support to former athletes to help them return to better health. Programs also emphasize taking a proactive approach to wellness and educating athletes on proper nutrition and protocols for improving cardiovascular and brain health.
Representatives from Cognate Nutritionals were in attendance to answer questions, explain the science of coconut oil and MCT oil for brain health and offer samples of Fuel For Thought®, which has been shown helpful in supporting recovery of T.B.I. (Traumatic Brain Injury). Local Arizona amateur athletes, coaches and parents attended the event.
"Understanding how to best protect against TBI but also support the brain from the ramifications of concussion and related sports injuries is critical," said Robert Firger, CEO of Cognate Nutritionals. "We have seen the benefits of coconut and MCT oil on those affected by TBI and will continue to support P.A.S.T. in their efforts to offer natural, safe treatments to players while raising awareness amongst youth, coaches and parents."
Proceeds from the event benefitted two non-profit organizations, The P.A.S.T. Youth Sports Education Program and the newly formed 13th Man Foundation.
About Fuel For Thought®
A relatively new product, Fuel For Thought® combines coconut and MCT oils into a concentrated liquid providing all the cognitive benefits of coconut oil in a lower calorie, highly effective supplement. One serving of Fuel For Thought® is quickly converted into ketones providing significant energy for the brain. The neurological benefits of ketones have long been scientifically proven although until Fuel For Thought® it has been very difficult to raise ketone levels in a regular and sustainable way. Fuel For Thought® is currently being used by The Byrd Alzheimer's Institute in a study on the benefits of coconut oil for early to mid-stage Alzheimer's disease patients. For more information on Fuel For Thought® visit: http://www.fuelforthought.co on Facebook at http://www.facebook.com/TryFuelForThought and on Twitter at @TryFuel4Thought