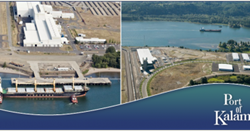 Northwest Innovation Works signs lease agreement for 6,000 square feet of office space at the Port of Kalama.
Kalama, Washington (PRWEB) January 29, 2015
Northwest Innovation Works this week signed a lease agreement for approximately 6,000 square feet of office space at the Port of Kalama. The company will lease the building that formerly housed the Port of Kalama administrative offices at 380 W. Marine Drive, Kalama. The three-year lease agreement becomes effective on February 1, 2015.
The Port of Kalama commission voted in April 2014 to approve a lease agreement with NW Innovation Works to build and operate a manufacturing plant on port property that would produce methanol from natural gas after receiving environmental and regulatory approvals. The company now moves its corporate offices to Kalama next month.
"The initial lease with Northwest Innovation Works last spring for the methanol plant was a landmark opportunity for the Port, and we are equally delighted that the executive team has chosen to move their headquarters to Kalama," said Port of Kalama commission president Randy Sweet.
"Kalama's central location will provide a good platform for us to manage permitting and construction for all of our proposed facilities in Washington and Oregon," said Murray "Vee" Godley, president of Northwest Innovation Works."We are very pleased to become even more a part of the Kalama community."
The methanol produced at NWIW facilities will be exported to global markets, including China, where it will be used to make olefin, a compound used in the production of many every day products. Additional information about NW Innovation Works can be found at http://nwinnovationworks.com.
About Port of Kalama – Where rail and water meet
The Port of Kalama is located in Southwest Washington on the Columbia River and immediately off of Interstate Highway 5. The port exists to induce capital investment in an environmentally responsible manner to create jobs and to enhance public recreational opportunities. Port of Kalama's industrial area includes five miles of riverfront property adjacent to the 43' federally-maintained deep draft navigation channel of the Columbia River. The Port is served by the Burlington Northern/Santa Fe and Union Pacific railroads. There are over 20 industries located at the Port of Kalama, employing over 830 people. Port of Kalama offers all the superior facilities businesses need to thrive, and an unsurpassed quality of life. The port offers shovel ready sites, a new Industrial Park, state of the art Marine Terminals and transportation accessibility to rail and highway all just a 30 minute drive to the Portland International Airport. Port of Kalama also offers high-bandwidth communications, with dual access fiber-optic service to Seattle and Portland. Properties currently available at the port for businesses wishing to expand and thrive: Visit http://portofkalama.com/industrial_property.
CONTACT: Claudia Johnson, Strategic Communications, 503-799-2220/cell