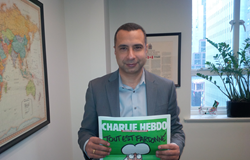 Islam's biggest problem is not the rise of extremism, but the silence of moderate Muslims
TORONTO, Ontario (PRWEB) January 29, 2015
Human rights leader Majed El Shafie is headed to Paris this week to meet with the Israeli Embassy and community leaders to show support and stand in solidarity with those that have been affected by the recent terrorist attack.
The trip comes on the heels of an editorial penned by El Shafie, "Criticism is not Islamophobia," that was featured in Israel's largest national newspaper, Israel HaYom, on January 14th.
"It is time to put an end to the suicidal practice of political correctness," writes El Shafie, who noted that the latest terrorist attacks in Canada, Australia and France came as no surprise to those how have been following the rise of radical Islam. "We have to recognize terrorists for who they are, and we have to acknowledge the role radical Islam plays in the rise of violence and terrorism worldwide. Terrorist attacks, wherever they take place, cannot be justified or condoned."
"Islam's biggest problem is not the rise of extremism, but the silence of moderate Muslims," warns El Shafie. "They believe that by keeping quiet they are protecting themselves, but the truth is, they are only making the situation worse, as moderate and secular Muslims are sure to find themselves as these radicals' next target."
El Shafie says the Muslim community should see the attacks in Paris as a wake-up call and realize it must begin an internal dialogue about the nature of its religion.
Read the full article here: http://www.israelhayom.com/site/newsletter_opinion.php?id=11225
For interviews and media-related inquiries, contact Brian Mayes at 615-771-2040 or brian(at)nashvillepublicity(dot)com.
About Majed El Shafie
El Shafie has a unique voice, having once been arrested, tortured, and sentenced to die in Egypt for defending human rights and fighting for freedom of religion and the rights of minorities. He regularly testifies before the U.S. Congress and the Canadian Parliament and Senate, and he's a frequent guest on news outlets worldwide, including FOX News Radio, Glenn Beck, Mike Huckabee, Phil Valentine, Laura Ingraham, CBN News, CBC, Sun News Network, CTV News, American Family Radio and many more. He now resides in Canada and fights for those persecuted around the world through his human rights organization, One Free World International. Pressuring governments, and challenging both world and spiritual leaders, he has not been afraid to put everything on the line to help those in need.
For more information on Majed El Shafie and One Free World International, visit http://www.onefreeworldinternational.org.