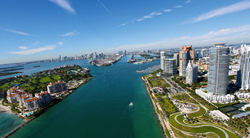 "The phone doesn't stop ringing; January's upsurge in interest has been, so far, a tell-tale sign of what's to come as more international buyers invest their cash in the Miami Beach Real Estate market.
Miami, Fl (PRWEB) January 30, 2015
Miami real estate is considered a smart investment among foreign buyers from around the world, including Europe, Asia, and of course South America. Rising from an economic downturn, the city has seen a swell in cash buyers looking for homes reflecting great demand for prime areas and properties throughout Greater Miami. The city owes its success and has benefited greatly from the global economic instability that continues to fuel growth in luxury sectors and the real estate market.
Allan Kleer, principal of TheKleerTeam and Fabian Garcia-Diaz, principal of FGD Group at Fortune International Realty, recently negotiated several multimillion dollar offers for waterfront residences in Miami Beach, Bay Harbour, Coral Gables and Coconut Grove. For a 5,000 SF renovated bayfront home on the Venetian Island, Miami Beach, they received an offer of up to $10,000,000, while a two-story canal front home on Pine Tree Drive with 6,500 SF garnered a $5,500,000 offer. The Senior Realtors spent most of their days negotiating sizable transactions like these and showing properties to high net-worth buyers form Latin America. The offers where presented in just the first week of January 2015, demonstrating that projections heading into high season are favorable for luxury waterfront properties on the market.
Seller confidence is also on the rise with inventory decreasing for new buyers entering the market for investment deals. Latin-American investors still command a heavy presence throughout the Miami Real Estate market to date; but competition from new Chinese investors could give way to increased demand and a surge in sales for 2015 and beyond. Chinese buyers, who often have no credit or access to financing according to reports, are also paying all cash for deals and are the fastest growing demographic of foreign buyers in the United States. Much like the strategy of Latin American investors, the wealthy Chinese are now looking for a safe haven to invest their money.