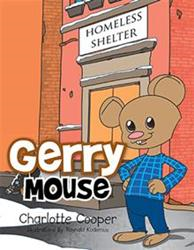 Sadly there are many children in our country that are in a very similar situation to Gerry Mouse.
EDMONTON, Canada (PRWEB) January 31, 2015
Authors like Charlotte Cooper use storytelling as an opportunity to expose children to real-life issues such as homelessness and poverty.
Cooper's "Gerry Mouse" is a heartwarming, modern-day tale of a homeless mouse that teaches people of all ages about social awareness, acceptance and compassion. The story describes the plight of people who are dubbed "different" by society because of physical challenges, poverty, discrimination and many other reasons. Gerry Mouse's experiences demonstrate the importance of being kind in a world that can be cold and harsh.
"Mice are not pretty and cuddly like puppies and kittens," Cooper said. "Neither are homeless, impoverished, or ill children and families. Sadly there are many children in our country that are in a very similar situation to Gerry Mouse."
Cooper has worked as a hospital social worker for more than 40 years. During this time, she observed how many impoverished children and adults face discrimination. Inspired by what she witnessed, Cooper wrote "Gerry Mouse" in order to show others the world through the eyes of those considered different.
"Sometimes it is not money that helps," Cooper said. "Sometimes it is a smile, a brief hello, or an unexpected gift of kindness that helps one hope and dream again."
For more information, visit http://www.gerrymouse.com.
Gerry Mouse
By: Charlotte Cooper
ISBN: 978-1-4990-7372-0
Available in softcover, hardcover, e-book
Available at Xlibris Corporation, Amazon and Barnes & Noble
About the author
Charlotte Cooper lives in Edmonton with her husband and works as a clinical social worker for Alberta Health Services. She has worked in hospital social work for 40 years and holds a master's degree in social work and a bachelor's of social work. In her free time, Cooper enjoys writing poetry, songs and stories that reflect what she has observed and learned from her work with children and families.
# # #
**FOR IMMEDIATE RELEASE**
For review copies or interview requests, contact:
Craig Cainkar
317.602.7137
ccainkar(at)bohlsengroup(dot)com