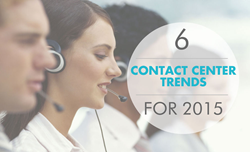 El Paso, Texas (PRWEB) January 30, 2015
DATAMARK, Inc., a leading provider of outsourced bilingual contact center services and business process solutions for Fortune 500 companies and other large enterprises, has released a new infographic highlighting six contact center trends for 2015.
Below are excerpts from the first three trends. To see the full list of trends and to download the "6 Contact Center Trends for 2015" infographic, visit DATAMARK's Outsourcing Insights blog at this link:
https://www.datamark.net/blog/six-contact-center-trends-2015
--1. Multichannel/omnichannel is good, but self service is even better.
Most businesses understand the value of multichannel contact–engaging with customers by phone, email, web chat, text and other venues.
And large enterprises are mastering omnichannel strategies, closing the seams on the customer experience from marketing to first contact to online and brick-and-mortar sales. But if a customer can take care of issues themselves, it can save time, money and headaches for all parties involved.
Organizations will offer customers FAQs and other easy online paths for problem resolution. "Visual IVR" apps for tablets and phones will gain popularity, using automation to quickly guide customers to the information they need without costly human intervention and support.
--2. Contact centers harden cyberattack defenses.
It seems just about every week we hear about a data breach at a major retailer, bank or government agency. And consumers are miffed by the lack of transparency about what happened to their data and when.
Organizations will make cybersecurity their top priority for 2015, tapping all available security tools, such as biometrics using fingerprints and voice prints, transaction tokens and data encryption.
--3. Customers waiting in long hold queues? How 90s of you!
In DATAMARK's 2014 Contact Center Preferences Survey, a majority of respondents said, given a choice of newer customer-service technologies, they would prefer to use an automated phone or online option that would allow them to arrange for a callback rather than remain on hold.
In this day and age, callback technologies should be the norm for call centers operated by large enterprises. We expect to see these technologies adopted by small-to-medium organizations in 2015.
A complete solution will allow a customer to arrange for callbacks through web pages, social media sites and mobile apps.
To download the infographic, visit:
https://www.datamark.net/blog/six-contact-center-trends-2015
About DATAMARK
Celebrating its 25th year in business in 2015, DATAMARK, Inc. is a leading business process outsourcing company specializing in high-volume digital mailroom management, document processing/document management, bilingual (English/Spanish) contact centers and process improvement consulting for Fortune 500 companies and other large enterprises.
Headquartered in El Paso, Texas, DATAMARK employs nearly 2,200 people in its U.S., Mexico and India facilities. For more information, visit http://www.datamark.net. Follow industry news and trends at DATAMARK's Outsourcing Insights blog at http://www.datamark.net/blog.