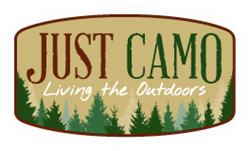 We're excited to expand our Just Camo merchandise from solely a digital presence to now having a physical, brick and mortar presence as well
Richfield, WI (PRWEB) January 29, 2015
As nature lovers and outdoor enthusiasts, the Just Camo family takes the company motto "Living the Outdoors" seriously. After over a decade in business selling camo products and outdoor gear, it was only natural for them to want to take their passion for the outdoors in a new direction. By combining their love of the outdoors with shooting and hunting, the idea for the Range of Richfield was born.
Opening on November 18, 2014, the Range of Richfield is a state of the art, safe, and environmentally friendly shooting facility focused on awareness and education. Located in Richfield, WI, the shooting range is essentially a building within a building, constructed of concrete masonry units (grouted solid) with modern shooting range equipment provided by Action Target, a respected nationwide leader in shooting range design. Committed to safety, the Range of Richfield is sound resistant, secure, well-lit, and ventilated to meet strict OSHA, ASHRE, AND EPA regulations.
The Range at Richfield's retail area features a variety of Just Camo merchandise, including name brands such as Browning, Mossy Oak, Realtree and True Timber. The Range of Richfield began carrying their sister company's merchandise on December 1, 2014.
"We're excited to expand our Just Camo merchandise from solely a digital presence to now having a physical, brick and mortar presence as well," said Judy Babiasz, Marketing Coordinator at Just Camo.
Supervised by employees who have earned a National Rifle Association (NRA) safety officer certification, the Range of Richfield is open to the public and offers discounts to law enforcement agencies, military personnel, and scouting groups. The facility's friendly atmosphere is designed to cater to both experienced shooters and those who are new to the activity, including men, women, children, and whole families. Classes in gun safety, operation, conceal and carry, and hunter's safety are offered throughout the year.
About Just Camo
Just Camo lives by the motto "Living the Outdoors," offering over 1,400 camouflage and nature-related products. Their products range from clothing, including outerwear, lounge wear and lingerie, jewelry and purses, to home decor items, auto accessories, wedding gifts and more. To learn more about Just Camo, visit http://www.justcamo.com