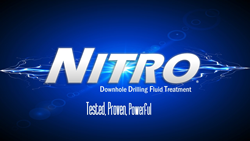 Houston, Texas (PRWEB) February 02, 2015
ProOne Inc., announces today the introduction of NITRO, the company's newest downhole drilling fluid treatment formula designed to be the most cost-effective solution available on the market today.
The introduction of ProOne's NITRO formula comes at a time when operators all over the country are looking to save every dollar they can. NITRO has all the power of ProOne, at a very competitive price. There is no product on the market that is anywhere close to being this cost-effective.
Like ProOne's other downhole drilling mud fluid treatment formulas, NITRO is based on the company's proprietary XPL+® lubrication technology which can be demonstrated to have a film strength that is 50 times more powerful than conventional lubricants. An independent laboratory Dynamic Lubricity test shows that NITRO used at only 1.5% or 3.0% reduces the metal-to-metal coefficient of friction significantly more than a major competitor's product used at 6.0% or even 7.5%.
ProOne Downhole Drilling Mud Fluid Treatment products have been successfully used in over 600 wells to reduce torque and drag by as much as 50% and significantly increase rate of penetration in the curve and long laterals of horizontal wells. Operators have saved hundreds of thousands of dollars in reduced drill time and replacement of drill bits and mud motors. Customers have reported the performance of ProOne Nitro resulting in wells below the AFE.
Additionally, NITRO is plant-based, biodegradable and environmentally friendly. By using this lubrication technology, some operators have been able to switch from oil-based muds to far less expensive water-based muds. For additional information on ProOne visit http://www.pro1energy.com.
About ProOne:
Based in Houston, Texas and Orange County, California, ProOne, Inc. (ProOne), the operating division of ProOne Holdings, Inc., is in the business of developing and marketing high-performance, cost-effective lubricants and fuel products for the oil and gas industry and commercial and industrial customers. ProOne has developed proprietary breakthrough lubrication technology with applications for oil drilling, manufacturing, mining and transportation. The product line includes biodegradable downhole drilling fluid treatments and lubricants, greases, cutting oils, spray lubricants, engine, transmission & hydraulic treatments, and fuel additives that have been tested and certified by leading testing laboratories and proven in the real world.
For additional information on ProOne visit http://www.pro1energy.com.
Statements contained in this news release, aside from those identifying historical facts, are 'forward looking statements' within the meaning of Section 21E of the Securities Exchange Act of 1934 and the Safe Harbor provisions as contained in the Private Securities Litigation Reform Act of 1995. Such forward-looking statements relating to the Company's future expectations, including but not limited to revenues and earnings, technology efficacy, strategies and plans, are subject to safe harbors protection. Actual company results and performance may be materially different from any future results, performance, strategies, plans, or achievements that may be expressed or implied by any such forward-looking statements. The Company disclaims any obligation to update or revise any forward-looking statements.
Contact:
Corporate: Lawrence Kahn, COO
ProOne, Inc.
Texas: (832) 516-6700 California: (714) 327-0262
Email: LKahn(at)pro-one(dot)us