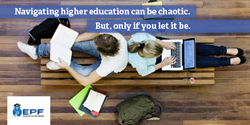 "Our family is so happy that HYPE has partnered with EPF. Now we will have the resources and knowledge to help our 3 children make quality choices in regards to their college education!" - Fadia Farhat HYPE Parent
Dearborn Heights, MI (PRWEB) January 31, 2015
Supporting Educational enrichment is just one way Hype Athletics embraces Metro Detroit students; and they do it with pride and passion. Education Path Finder(EPF) is excited to partner with Hype Athletics and provide their members with a free college search tool. "HYPE is proud to partner with EPF. Students who attend our educational programs now have quick and easy access to thousands of colleges, universities and specialized programs to guide them in their college search," said Chris Pappas, Hype's Social Service Director HRC.
EPF provides students with detailed information for schools around the world, letting students search by location, programs, cost and so much more. Hype Athletics currently offers free tutoring, computer training, math support, drug free programs, reading and S.T.E.M.
About Hype Athletics:
The Mission HYPE Athletics Community is to create and strengthen infrastructures that support the positive development of Wayne County youth through athletic participation and competition, educational tutoring and literacy development, and social awareness including mentoring, counseling, life skills training and substance abuse education and prevention.
Established in 2001, HYPE focused on providing communities with drug-free, violent-free and diverse athletic events and programs for kids and adults.
Today HYPE Athletics Community is deep-rooted, nonprofit community based organization that partners with federal, state and local agencies, corporations, foundations and leaders to provide services, programs. Support through our many community campaigns such as Feed Detroit, Tutor Challenge, Youth and Adult Athletic Programs, Fitness and Health Services and Education with ACT / SAT Support, Career and Leadership Development, Mentoring, Life Skills, Drug Prevention, Homework Assistance, Reading and Math Programs, Teach and Feed Green House Project and much more.
About Education Path Finder:
Edupathfinder.com is a comprehensive college search and tutoring site which features over 10,000 schools from around the world. Edupathfinder.com is committed to helping students navigate through the often complicated process of finding the right college. edupathfinder.com also provides an online tutoring platform that allows students to connect with tutors 24/7. Edupathfinder.com has tutors that fit everyone's budget.