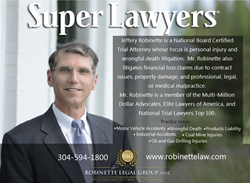 It's your responsibility to protect your legal rights.
Morgantown, WV (PRWEB) January 30, 2015
As a law firm which mainly focuses on protecting the rights of the seriously injured, the Robinette Legal Group, PLLC of Morgantown, WV has launched a new video blog series with the goal of educating West Virginia injury victims of their legal rights which will be promoted through various social media channels.
There are many facets of an injury case and countless ways a legitimately injured person can discredit his or her own case through carelessness and inattention during the litigation process. In Attorney Jeff Robinette's latest video blog, he outlines the five most common mistakes injury victims make during the course of litigation.
The five mistakes discussed in this video are misstatement of the facts, delaying treatment, failure to follow recommended treatments, exaggerating or minimizing injury symptoms, signing away rights by prematurely signing an insurance medical release form, and giving the insurance company a recorded statement without your attorney's approval.
Filing a personal injury claim involves complex legal issues. Any mistakes made may result in the loss of legal rights, so it is the goal of the Robinette Legal Group, PLLC to ensure that any seriously injured person in the Morgantown area has access to the latest information in both written form and our new video blog format for the protection of personal legal rights.