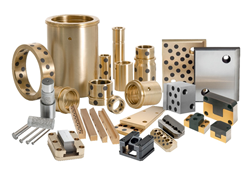 Coopersville, MI (PRWEB) January 29, 2015
Mold and die components manufacturer, SelfLube announced its 2015 event schedule of industry trade shows at which it will be exhibiting its product line. These include:

NPE 2015: Orlando, Florida March 23-27. This is considered one of the world's largest plastic showcase and should be of interest to mold builders. SelfLube will have on display its mold components, including the trunnion lifter slides, side locks and wear strips.
American Mold Builders Association (AMBA) Annual Conference: Indianapolis, IN May 6-8. SelfLube has partnered with AMBA many years. For mold builders this is a must for attending.
Amerimold Expo: Rosemont, IL June 17-18. This is a the event for the mold-manufacturing sector. SelfLube will have on display its mold components at Booth 924.
SelfLube is the leading U.S. manufacturer of mold and die components. Over the years, it has built a solid reputation for quality and customer service. Located in Western Michigan, it supplies mold and die shops throughout the U.S. and Canada. For more information on these events, feel free to visit SelfLube's upcoming events located on the SelfLube Home Page.