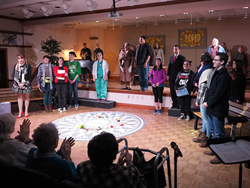 A wonderful intergenerational production!
(PRWEB) January 30, 2015
Bringing together Oberlin Conservatory of Music voice students and the residents of Kendal at Oberlin for an opera production is quite a feat. "Strawberry Fields," a one act opera written in 1999 by composer Michael Torke, revolves around an unnamed elderly woman with dementia as she wanders into New York's Central Park more specifically, the section named Strawberry Fields in memory of John Lennon. The elderly woman believes she is at the opera and takes a seat on a bench, where she meets a Columbia College student with a similar passion for John Lennon's music. Thus their connection begins.
Project Director, Sally Stunkel states, "While I am normally limited to students in the ensembles of the opera, real life has people of all ages in it, and I am delighted to have them represented, especially since this is an opera about age and generations. The Kendal residents onstage remind us that age does not necessarily bring infirmity or dementia. I also wanted to represent Kendal's involvement in more ways than just their support, but also with their people."
Kendal at Oberlin's residents involved in the opera include an accomplished musician and vocalist; a professor emeritus and set designer, who designed and constructed the scenery with help from students; and other Kendal residents, who are included in the chorus.
The combined efforts of Sally Stunkel Associate Professor of Opera at the Oberlin Conservatory of Music, and Michele Tarsitano-Amato, Creative Arts Therapy Director and Certified Dementia Specialist for Kendal at Oberlin, bring an intergenerational production to life, while treating the subject of dementia with compassion and respect. They met when Sally's mother lived at Kendal and was diagnosed dementia. With Michele's extensive knowledge of dementia, she provided an interactive presentation to the students involved in the opera. This educational piece is vastly important as the students take on the roles of their characters. Sally and Michele hope that the audience takes with them the thought that cognitive loss does not define the person. "Let it be" and let "imagine" their own reality.