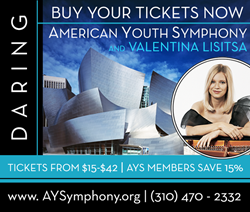 Following her spellbinding, sold-out performance with the American Youth Symphony last Spring, Valentina Lisitsa returns to join AYS at Walt Disney Concert Hall on March 7!
(PRWEB) January 30, 2015
World-touring powerhouse Valentina Lisitsa, has been described as "one of the internet's great musical sensations," (The Daily Telegraph) and, "a hugely confident and spontaneous performer," (BBC Music Magazine). Ms. Lisitsa rose to international stardom by posting videos of her performances and rehearsals online, which have collectively garnered over 80 million YouTube views to date!
Following her spellbinding, sold-out performance with the American Youth Symphony last Spring, Ms. Lisitsa returns to play Rachmaninoff's career-defining Piano Concerto No. 2 with AYS at Walt Disney Concert Hall on Saturday, March 7 at 2pm. Order tickets now!
Also on the program is a newly commissioned work by maverick composer Paul Dooley. A rising-star of contemporary composition, Mr. Dooley has received the BMI Composer Award and ASCAP Morton Gould Young Composer Award, among others. Los Angeles audiences may remember the thrilling performance of his work Point Blank with the American Youth Symphony in 2012.
The American Youth Symphony, currently celebrating a triumphant 50th Anniversary Season, has been heralded as "the finest youth symphony on Earth" by KUSC's Jim Svejda. As one of the nation's leading pre-professional orchestras, the mission of AYS is to inspire the future of a timeless art form by sharing exceptional, innovative concerts based on it's landmark training of musicians ages 15-27. The orchestra provides paid fellowships to musicians representing extraordinary talent from all over the world.
Tickets for this concert run from $15-42. Buy Today!
Full Program Details:
Saturday, March 7, 2pm | Walt Disney Concert Hall
ALEXANDER TREGER, conductor
VALENTINA LISITSA, piano
Dooley: AYS commission (World Premiere)
Rachmaninoff: Piano Concerto No. 2
Shostakovich: Symphony No. 6
AYS Members Save 15% on Tickets.
Learn about Membership
--
VALENTINA LISITSA, PIANO
With her multi-faceted playing described as "dazzling", Valentina Lisitsa is at ease in a vast repertoire ranging from Bach and Mozart to Shostakovich and Bernstein; her orchestral repertoire alone includes more than 40 concertos. She has a special affinity for the music of Rachmaninoff and Beethoven and continues to add to her vast repertoire each season.
Born in Kiev, Ukraine, in 1973, Valentina Lisitsa began playing the piano at the age of three, giving her first solo recital a year later. She gained a place at the Lysenko Music School for Gifted Children and later studied under Ludmilla Tsvierko at the Kiev Conservatory. In 1991 she won the first prize in the Murray Dranoff Two Piano Competition together with Alexei Kuznetsoff, and she now resides in the USA.
Lisitsa has performed at leading international venues such as New York's Carnegie and Avery Fisher halls and the Vienna Musikverein. In May 2010 she made her debut with the Rotterdam Philharmonic Orchestra playing the Dutch premiere of Rachmaninoff's "New 5th" Concerto, and in August 2011 her debut with the Orquestra Sinfônica Brasileira under Lorin Maazel.
With more than 82 million YouTube views and some 167,000 subscribers to her channel, Valentina Lisitsa is one of the most watched classical musicians on the internet, using digital innovation to champion classical music and performance. Impressed by her YouTube success, the Royal Albert Hall, in an unprecedented step, opened its doors for Valentina's London debut on 19 June 2012. That concert, recorded and filmed by Decca Classics, became her first release on the label; it was also Google's first-ever live HD stream. Further 2012 engagements included concerto appearances in Rotterdam, Munich, Mexico City and Sicily, as well as recitals in Europe, North and South America.
In February 2013 she made her debut in the main auditorium of the Berlin Philharmonie and during the year also gave recitals in Rotterdam, Amsterdam, Copenhagen (Tivoli Festival), Cologne, Bucharest, Palma de Mallorca, Washington, Brisbane and Seoul. As well as returning to the Berlin Philharmonie for a recital in December, Valentina also appeared in New York on 19 October to open the 92nd St. Y series with a program chosen by the public online. The year's concerto commitments took her across the USA as well as to Mexico City, Hong Kong, Taiwan, Copenhagen, Ljubljana and the BBC Proms in London.
2014 already includes concerts in Los Angeles, Vienna, Stuttgart, Paris, Milan, Stockholm and Istanbul as well as recitals in St. Paul, Amsterdam, Heidelberg, Stuttgart, Munich, at London's Wigmore Hall and on tour in Japan.
In 2012 Valentina Lisitsa signed an exclusive agreement with Decca Classics. Her June 2012 Albert Hall recital, immediately available as both CD and DVD for pre-order on the night of the concert, was followed by a 2-CD release of the complete concertos of Rachmaninoff and Paganini Rhapsody with the London Symphony Orchestra under Michael Francis. 2013 saw the release of an exciting all-Liszt recital on both CD and LP. In 2014, Decca will release Valentina's recording of the piano music of Michael Nyman, in celebration of the composer's 70th birthday. Featuring music from Nyman's soundtracks to well-loved films such as The Piano and Wonderland, the companion digital release represents the complete published Nyman oeuvre for piano, running to over 110 minutes.
--
PAUL DOOLEY, COMPOSER
Paul Dooley's music has been described as "impressive and beautiful" by American composer Steve Reich. Mr. Dooley's path has embraced not only his Western Classical heritage, but also a cross-cultural range of contemporary music, dance, art, technology and the interactions between the human and natural worlds.
Dooley is a Lecturer in Performing Arts Technology at the University of Michigan. While at the University of Michigan, Dooley has taught courses in electronic music, co-directed the 2009 Midwest Composers Symposium and in 2010 was coordinator of the ONCE. MORE. Festival, a 50-year anniversary of the ONCE Festival of Contemporary Music. He has studied composition primarily with composers Michael Daugherty, Bright Sheng, and Evan Chambers. Dooley also earned a degree in music composition at the University of Southern California where his mentors included Frank Ticheli, Stephen Hartke and Frederick Lesemann.
Dooley's New Work (2015), commissioned by the American Youth Symphony, will be premiered in Disney Hall in March 2015 conducted by Alexander Treger. A new Chamber Symphony (2014), commissioned by the Charleston Symphony, will premiered in November 2014, conducted by Yuriy Bekker. Coast of Dreams (2014), inspired by early Los Angeles activist Charles Lummis was recently premiered by the Los Angeles-based Young Musicians Foundation Debut Orchestra, conducted by Roger Kalia, and by the Amarillo Symphony conducted by Jacomo Rafael Bairos. Run for the Sun(2013), commissioned by the New York Youth Symphony, was premiered in March 2013 at Carnegie Hall, conducted by Joshua Gersen. Dooley's Point Blank (2011) was premiered by Santa Cruz's Cabrillo Festival Orchestra and New York City-based new music ensemble Alarm Will Sound.
In 2014 - 2015, Mr. Dooley's other commissions include those from the American Bandmasters Association (Meditation at Lagunitas (2014)), a consortium of wind bands organized by the Paula Holcomb at SUNY Fredonia (Coast of Dreams (2014)), the Hyperion Duo, and the Akropolis Reed Quintet (Warp & Weft (2014)).
In 2013 - 2014, Paul Dooley was composer-in-residence with the Amarillo Symphony and in 2011 - 2012, was composer-in-residence with the Detroit Chamber Winds. This featured the premiere of Salt of the Earth (2012) for brass ensemble and percussion, conducted by H. Robert Reynolds. Other performances of Dooley's music include those by Alarm Will Sound, the Charlotte Symphony, Cabrillo Festival Orchestra, Omaha Symphony, Aspen Philharmonic Orchestra, New York Youth Symphony, American Youth Symphony, Chautauqua Festival Orchestra, American Philharmonic, the Atlantic Classical Orchestra, USC Thornton Symphony, USC Wind Ensemble, University of Michigan Symphony Band, Frost Wind Ensemble, and a reading by the Detroit Symphony, conducted by Leonard Slatkin.
Dooley is also collaborating with librettists Cameron Jackson and Jessica Cox on a new, full length multi-media opera, Gate of Ivory Gate of Horn (2016). A band version of Dooley's composition Point Blank (2012) was recently commissioned by a consortium of fourteen bands organized by Gary Green of the University of Miami Frost Wind Ensemble, and performed by the Baylor University Wind Ensemble at the 2013 College Band Directors National Association (CBDNA) National Conference in Greenseboro, NC. In 2010, Mr. Dooley was commissioned by San Francisco Ballet Principle Dancers Muriel Maffre and Damian Smith to create a project for Marina Abramovic Institute West (Making Visible (2010)) directed by Cameron Jackson. San Francisco Chronicle writer Leah Garchik noticed "whispered admiration for the work" and San Jose Mercury News regarded the project as "fascinating." Other recent commissions include Scordatura Music Society (Brisé (2011)), the Pacific Symphony Youth Wind Ensemble (Forgotten Highway (2011)), and the Michigan Music Teachers Association and National Music Teachers Association (Gradus (2009)).
Mr. Dooley has received a wide range of prizes for his work, including: the 2013 Jacob Druckman Award for orchestral composition, a 2010 BMI composer award for Gradus (2009) for solo cello, a 2008 ASCAP Morton Gould Young Composer Award for Dani's Dance (2007) for piano trio, a fellowship to the 2008 Aspen Music Festival Composition Masterclass with Christopher Rouse, and a Regents fellowship to the University of Michigan.
--
ALEXANDER TREGER, MUSIC DIRECTOR, HENRI LAZAROF CHAIR
Alexander Treger, celebrated former concertmaster of the Los Angeles Philharmonic, was appointed Music Director of the American Youth Symphony in 1998 and is now celebrating his triumphant final season with AYS. Over the last 17 years, Maestro Treger has led AYS to become a first-class training ground for young musicians. In addition to being a noted violinist, Maestro Treger is a gifted educator and accomplished conductor, recognized for his inspiring work with promising young musicians. He held the position of violin professor at UCLA from 1977 to 1997, and has given master classes around the world. In 1993, he was appointed Music Director and Conductor at the Crossroads School where he has developed a youth chamber orchestra of the highest caliber. Under his leadership, the American Youth Symphony has performed at Carnegie Hall and Walt Disney Concert Hall, and received the hands-on support of world-class musicians, including Yefim Bronfman, Sarah Chang, Midori, Johannes Moser, Alan Silvestri, and John Williams.
The Russian-born Treger studied with renowned violinist David Oistrakh at the prestigious Moscow Conservatory – he often refers to these six extraordinary years as the most influential in his development as a musician. After a few years with the Moscow Radio Orchestra led by Gennady Rojdesvenski and with the Israel Chamber Orchestra, where he held the post of Concertmaster/Soloist, Mr. Treger moved to the United States and joined the Los Angeles Philharmonic in 1974. He became Assistant Concertmaster in 1978, and was appointed Concertmaster in 1985, a position he held for 25 years. Mr. Treger won high praise for his numerous solo performances with the Los Angeles Philharmonic at the Dorothy Chandler Pavilion and at the Hollywood Bowl, under the direction of Zubin Mehta, Carlo Maria Giulini, Simon Rattle, Pierre Boulez, Vladimir Ashkenazy, Valery Gergiev, Yuri Temirkanov, and Esa-Pekka Salonen. He has also appeared as a soloist with other major U.S. orchestras, including the San Francisco, Denver, Dallas, and Houston Symphonies. An avid chamber performer, he has collaborated in concerts with Radu Lupu, Yefim Bronfman, André Previn, Bernard Greenhouse, and Emanuel Ax.
A musician of many interests and talents, he is increasingly devoting more time to conducting. Mr. Treger stepped in at the last minute to conduct the Los Angeles Philharmonic, replacing the indisposed Franz Welser-Möst, and has guest conducted the Santa Barbara Chamber Orchestra, California's Music in the Mountains Festival Orchestra, the New World Symphony, and the Santa Monica Symphony. Most recently, he has conducted the Turku Philharmonic in Finland, the State Academic Orchestra in the Great Hall of the Moscow Conservatory, the Guangzhou Symphony in China and the Armenian Philharmonic in Yerevan.
Mr. Treger is currently an Artist in Residence at Pepperdine University, and in Summer 2015 will return to the Music Academy of the West as part of their Visiting Artists Program.
--
CONNECT WITH AYS:
Facebook
Twitter
Tumblr
Soundcloud
FOR MORE INFORMATION:
(310) 470-2332 | http://www.AYSymphony.org
E-mail Alice.Dutton@AYSymphony.org
# # #