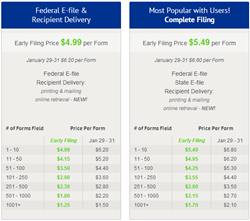 The filing deadline of January 31st for 1099's is tomorrow! The IRS has penalties for not having these filed on time as high as $500,000 for small businesses.
Grants Pass, OR (PRWEB) January 30, 2015
Rentec Direct, the leading provider of property management software, and tenant credit check services announces new 1099 e-file capabilities. These new 1099-MISC efile features provide property managers and landlords an easy and instant way to complete their 1099 tax obligations.
The filing deadline of January 31st for 1099's is quickly approaching. The IRS has built in penalties for late or non-filers with fines as high as $500,000 for small businesses. To help property managers accommodate this deadline, Rentec has streamlined the process of of 1099 generation. In just moments, property managers can generate a all their annual 1099s which Rentec will then print and mail to recipients and e-file with the IRS.
For property managers already using Rentec's platform, the data from their annual accounting will be automatically populated into the 1099 forms. This takes what used to be a tedious or expensive process and cuts it down to just a few minutes per year. "We want to save property managers as much time as possible, every chance possible," says Nathan Miller, President of Rentec Direct.
Rentec also makes this service available to property managers who are not already on the platform. This way, property managers using a different platform or no platform at all, have the capabilities to comply with federal e-file requirements and meet the filing deadlines.
To learn more about Rentec Direct's property management solutions, visit their website at http://www.rentecdirect.com.
About Rentec Direct  
Rentec Direct provides affordable property management software solutions to property managers and landlords. Other popular solutions offered by Rentec Direct include tenant ACH payment processing, tenant credit check services, and online syndication of vacancies to more than 20 popular websites.