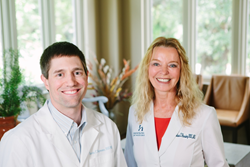 (PRWEB) February 10, 2015
Dr. Barbara Hershey and Dr. Gavin Heymann are pleased to announce the initial application period for "Smile for a Lifetime" (S4L) scholarships through the new Smile for a Lifetime – Chapel Hill Chapter in North Carolina. The S4L – Chapel Hill Chapter is committed to offering 6 scholarships annually for comprehensive orthodontic care (free braces) to children in Chapel Hill, North Carolina and the surrounding communities (Orange & Chatham Counties) who otherwise might not be able to afford orthodontic care.
Smile for a Lifetime - Chapel Hill's mission mirrors that of the National S4L Foundation: "…to create self-confidence, inspire hope and change the lives of children in our communities in a dramatic way. The gift of a smile can do all this for a deserving, underserved individual who, in turn, can use this gift to better themselves and their community."
Details about the chapter & copies of the application and application process are available on Hershey & Heymann Orthodontics' website: http://www.hersheyandheymann.com/smile-for-a-lifetime
Dr. Barbara Hershey and Dr. Gavin Heymann have agreed to be the orthodontic providers for this Chapter. Scholarship recipients are chosen by an independent Board of Directors (names included on the webpage).
Serving Durham, Chapel Hill and surrounding communities for over 30 years, Dr. Hershey & Dr. Heymann are proud to start this new chapter of Smile for a Lifetime in North Carolina to serve underprivileged children in their area. Please help them get the word out! They are seeking applicants to award these 6 scholarships to in 2015!
For more information, press only:
Anne Heymann
919-360-1501 cell
anne(at)hersheyandheymann(dot)com
For more information on the Chapel Hill chapter: http://www.hersheyandheymann.com/smile-for-a-lifetime
For more information on the National Smile for a Lifetime Foundation: http://www.S4L.org