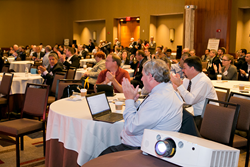 Addressing the most challenging issue that healthcare providers face today.
Portland, ME (PRWEB) February 03, 2015
HIMSS Media and Healthcare IT News co-host the Privacy & Security Forum in San Diego in March. One in a series of regional gatherings, the forum presents practical, applicable solutions to healthcare providers and payers who are up against the daunting challenges of data breaches of all forms.
When: March 5-6, 2015
Where: Manchester Grand Hyatt, San Diego, Calif.
Who Should Attend: Professionals who work in positions that safeguard their organizations' data assets –CIOs, CISOs, COOs, CSOs, and director and managers in security and information services.
Reasons to Attend:

Assess your facility's short-term and long-term privacy and security needs.
Implement strategies and tactics that help ensure the safe transfer and storage of personal health information.
Become your facility's privacy and security leader, and create institutional buy-in from the top down.
Keynote
Privacy & Security in an Era of Accelerating Change
Kari West, CISO, Intermountain Healthcare
Featured Speaker
Lessons Learned from Boston's Childrens: When Hactivsts Attack Your Hospital
Daniel Nigrin, CIO, Boston Children's Hospital
Session Highlights:
Top Security Concerns, Insights, and Initiatives
Best Practices for Risk Management and Incident Response
10 Things You Need to Know About Cybersecurity Insurance
Q&A With the Privacy & Security Genius Bar
Ethical Hackers Discuss Top Network Vulnerabilities
Please review our agenda a full list of speakers and sessions. To register for the show, please visit our website.
sandiegohealthprivacyforum.com
About HIMSS
HIMSS is a global, not-for-profit organization focused on better health through information technology (IT). HIMSS leads efforts to optimize health engagements and care outcomes using information technology.
About HIMSS Media
HIMSS Media is a cause-based, global enterprise producing health IT thought leadership, education, events, market research and media services -- around the world. Founded in 1961, HIMSS encompasses more than 52,000 individuals worldwide, of which more than two-thirds work in healthcare provider, governmental and not-for-profit organizations. Membership also includes more than 600 corporations and 250 not-for-profit partner organizations that share this cause. HIMSS, headquartered in Chicago, serves the global health IT community with offices in the United States, Europe, and Asia.