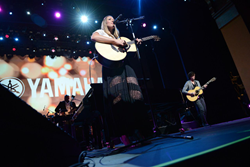 "Only Yamaha has the wonderful artist relationships to pull off a concert of this magnitude, and it's really a musical celebration of that partnership and commitment to musical excellence," said Chris Gero, Yamaha Entertainment Group of America.
ANAHEIM (PRWEB) January 30, 2015
Yamaha's annual Dealer Concert was a major highlight of this year's NAMM music products convention, bringing together an eclectic mix of talented musicians who performed with a 25-piece orchestra at the Hyperion Theater in Disneyland.
The star-studded lineup for the concert on January 23 featured Bob James, Colbie Caillat, James Blunt, Jamie Cullum, Jonathan Butler, Nathan East and Internet sensation The Piano Guys. Surprise guests included David Paich and Steve Porcaro of Toto and saxophonist Tom Scott.
Hosted by comedian Sinbad, the show produced by Yamaha Entertainment Group of America proved to be a memorable musical event for Yamaha dealers from around the country and other invited guests as part of the 2015 NAMM Show, the world's largest trade-only event for the music products industry, which ran from January 22-25 at the Anaheim Convention Center.
Cullum, the United Kingdom's most successful jazz artist of all time, with over 10 million of his albums sold worldwide, wowed the crowd with his genre-defying vocals, musical talents on the piano and dynamic showmanship, performing tunes including a jazz pop version of Rihanna's mega-hit "Don't Stop The Music" as well as "These Are the Days," a rousing rendition of "I Feel Fine" and "Mixtape" to close out a set that audience members aren't likely to ever forget. The young Grammy Award-winning British sensation also teamed with Bob James on piano for a memorable duet of a Cole Porter classic, "Just One of Those Things."
Another live gem at the Yamaha Dealer Concert was when Toto members Paich and Porcaro performed "Africa," one of their many hits with the Grammy-winning, chart topping band. East, the hottest bass player in music these days as well as a touring member of the pop group, joined the pair for a memorable collaboration.
East's chart-topping self-titled debut solo album is up for a GRAMMY this year, for Best Contemporary Instrumental Album. Nathan East, released last March on the Yamaha Entertainment Group label, debuted at No. 1 on the Billboard Contemporary Jazz chart and went to No. 1 on both the iTunes, and Barnes & Noble Jazz album charts, holding the No. 1 spot for several months on SmoothJazz.com.
The show, spanning nearly three hours, covered a broad spectrum of musical styles, including jazz, pop, rock, folk and more.
Caillat, the multiplatinum singer-songwriter and Grammy winner, played three of her songs: "Bubbly," her best-selling single to date, which she performed on acoustic guitar; "Try," a single off her latest album, Gypsy Heart, which she played on piano, and "Brighter than the Sun."
Scott, a three-time Grammy Award winner, composer, band leader and recording artist, was a big hit performing "Gotcha," known to many as the theme song to the popular 1970s TV series "Starsky and Hutch."
Butler, the South African-born guitarist, vocalist and songwriter, treated the audience to a beautiful rendition of Bob Marley's classic, "No Woman, No Cry."
"Our Dealer Concerts have come to be known as must-see events at each NAMM show, serving up a slew of world-class talent on stage, at a truly great performance venue, Disney's Hyperion Theater," said Chris Gero, vice president of Yamaha Entertainment Group of America, which put on the event. "Only Yamaha has the wonderful artist relationships to pull off a concert of this magnitude, and it's really a musical celebration of that partnership and commitment to musical excellence that Yamaha, our dealer network and our performing artists have come to be recognized for."
Additional information about Yamaha Corporation of America is available at http://4wrd.it/YAMAHAUSA.
-END-
About Yamaha
Yamaha Corporation of America (YCA) is one of the largest subsidiaries of Yamaha Corporation, Japan and offers a full line of award-winning musical instruments, sound reinforcement and home entertainment products to the U.S. market. Products include: Yamaha acoustic, digital and hybrid pianos, portable keyboards, guitars, acoustic and electronic drums, band and orchestral instruments, marching percussion products, synthesizers, professional digital and analog audio equipment, Steinberg recording products and Nexo commercial audio products, as well as AV receivers, amplifiers, Blu-ray/CD players, iPod docking systems, home-theater-in-a-box systems and its exclusive line of Digital Sound Projectors. YCA markets innovative, finely crafted technology and entertainment products and musical instruments targeted to the hobbyist, education, worship, professional music, installation and consumer markets.
About Yamaha Entertainment Group
Yamaha Entertainment Group of America is a boutique, one-stop shop, record label developed to be the champion of the musician with the backing power of the largest music manufacturer in the world. Yamaha Entertainment Group is branding, promotion, concert production, content development, product placement, tour support, piano logistics and artist relations, all rolled into one. Home to more than 3,600 talented artists, Yamaha Entertainment Group is responsible for the development and advancement of the Yamaha brand name through numerous artist related activities worldwide.
Contact:
Peter Giles/ Giles Communications
(914) 798-7120, pgiles(at)giles(dot)com
Tiffany Napper/Yamaha Entertainment Group
(615) 268-2495, tnapper(at)yamaha(dot)com