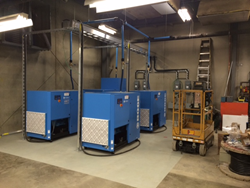 "I would like to thank Central Air Equipment for their professional recommendations and customer service to us"
POWER SPRINGS, GA (PRWEB) February 02, 2015
Multi-billion dollar publicly-traded companies don't stay on top of their game unless operations are running smoothly. When one Western Canadian company found itself facing a major equipment failure, BOGE America Compressed Air Systems recently provided the solution it needed.
In 2007, when Finning International, Inc., the world's largest Caterpillar dealer, moved into its 200,000 sq. ft. Centre of Excellence in Red Deer, Alberta, Canada, the company inherited an aging set of 150hp compressors that proved very costly to operate and maintain. Necessary for sand blasting and painting, Finning turned to Central Air Equipment (CAE), BOGE America Compressed Air Systems' (http://www.boge.com/us) master distributor in Red Deer, for a solution.
Although Finning spent time studying their air compressor needs relative to their existing equipment in order to justify the capital expenditure for new equipment, it was a sudden and catastrophic failure of one of the air compressors that resulted in Finning reaching out to Central Air Equipment.
Finning representatives had an exacting list of requirements for any new vendor that matched their own dedication to prompt and consistent customer service. There was an expectation that a vendor would support any product they sold and respond in the timely manner to Finning's service needs. Additionally, Finning sought a reliable, energy efficient compressor. CAE carefully reviewed Finning's needs and proposed a BOGE SLF direct-drive variable speed compressor. A visit to one of CAE's local customers' plant allowed Finning representatives to see a BOGE system in action, which included three BOGE S61-2 compressors and a lead variable speed BOGE SLF-75. Finning was suitably impressed with the clean installation of these super-silenced machines as well as the BOGE Airtelligence Plus controller that monitored them. A glowing recommendation by the host's production engineer didn't hurt, either.
As Finning was in the process of placing their order for a new BOGE SLF 75-3, the unexpected happened: Finning's second aging compressor failed and their only functioning compressor wasn't sounding too healthy. With Finning facing a manufacturing crisis, CAE stepped in and got the company back up and running with the loan of a BOGE S50-2 machine out of their own stock and a rented diesel compressor.
The loaner and rental compressor were stopgap measures at best. Finning's 450 employees only worked if all manufacturing processes were working and Finning couldn't afford to be without compressed air. Finning turned to CAE to quickly review the situation and offer recommendations.
CAE's in-depth review of the Centre of Excellence's needs went beyond addressing energy savings, which was Finning's initial focus. Their current crisis made it clear that reliability and redundancy were also vitally important. In addition to the BOGE SLF 75-3 that was being built for Finning, CAE recommended a set of three lower capacity, smaller horsepower base-load BOGE S50-3 units (229 cfm each) to complement the SLF 75-3. With this recommendation, there would be adequate total capacity to meet Finning's measured peak load with enough redundancy to cover the plant demands should any one of the compressors go off-line for regular maintenance. CAE also recommended a BOGE Airtelligence Plus master controller.
The result - Finning agreed with CAE's recommendation and the full shop has been operating trouble-free with their four new BOGE compressors since Nov. 14, 2014. Finning praised CAE for making their crisis a priority and creating a solution that resolved all issues that might otherwise have negatively affected production. When faced with a tough challenge, CAE and BOGE provided the solutions that Finning needed to keep production going.
Says Leah Longaphie of Finning, "I would like to thank Central Air Equipment for their professional recommendations and customer service to us, and for taking the stress of our urgency for air as a priority. From providing quotes, to break downs, to portable compressors, to MORE portable compressors and service. Thank you."
About BOGE Compressors
BOGE America is the United States of America Daughter Company of BOGE International GmbH based in Bielefeld, Germany.
BOGE manufactures a comprehensive range of oil lubricated and oil free screw and piston compressors used by all sectors of industry to supply compressed air for a wide range of manufacturing processes. The company also supplies a complementary range of filters, dryers and condensate management equipment. The product is sold and serviced through a dedicated network of over 50 distributors in North and South America.