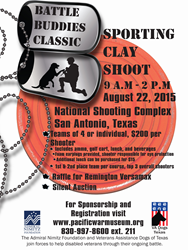 Fredericksburg, Texas (PRWEB) January 30, 2015
On August 22nd at the National Shooting Complex in San Antonio, Texas the Admiral Nimitz Foundation and Veterans Assistance Dogs of Texas will hold their Battle Buddies Classic Sporting Clay Shoot. The set up will be for teams or four or individuals and will consist of multiple courses. Think of it as golf only with shotguns. The event will go from 9 a.m. till 2 p.m. Registration is $200 per shooter and includes ammo sponsored by Remington, 4 person golf cart, lunch, and beverages. There will be a silent auction and special promotion going on throughout the day ending with lunch, beverages, and trophy presentation.
Veterans Assistance Dogs of Texas (VADogs) is a not-for-profit providing companion dogs for veterans suffering from Post-Traumatic Stress Disorder. Dogs are rescued from animal shelters after screening for their capabilities and trained for assignment to a veteran. The fully volunteer staffed organization is located in Kerrville, Texas. For more information on VADogs visit http://www.vadogs.org.
"We were excited when VADogs reached out to us for partnership. While our museum focuses on WWII in the Pacific Theater we believe it is important to support those who are still cut from that same cloth as the Greatest Generation and put their lives on the line to protect our freedoms" said Brandon Vinyard, Director of Marketing/PR for the foundation.
All proceeds will go to support both organizations. Veterans Assistance Dogs of Texas will use the money to begin construction on their new training facility in Kerrville, Texas.
For more information on registration and sponsorship opportunities please visit http://www.pacificwarmuseum.org or contact Jasper Eisenberg at 830-997-8600 ext.211 or Eisenberg(at)nimitzfoundation(dot)org.
The Admiral Nimitz Foundation supports, operates, and manages the National Museum of the Pacific War which is a Texas Historical Commission property.