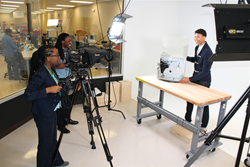 Video communication simplifies technology teaching and learning
ATLANTA, Georgia (PRWEB) January 30, 2015
Lexicon Technologies announces Lexicon Studios, a video production space designed by the technology repair company to create technician training and customer support videos. Development for Lexicon Studios began more than one year ago, when Lexicon technicians and engineers realized visuals helped customers better troubleshoot their devices. The company has since expanded this concept to include large-scale certification and training programs for field technicians.
"Video communication simplifies technology teaching and learning," said Lexicon Vice President of Operations Dave Word. "Lexicon Studios provides another platform for us to continue to be a thought leader and helpful partner in the technology industry," said Word.
Three Rockdale Career Academy (RCA) apprentices are co-hosting Lexicon Studios Grand Opening Celebration today. These new Lexicon employees are enrolled in RCA's first employer-led video production program this Spring 2015 semester.
The event commemorates an extended partnership between Lexicon and RCA, making Lexicon the second largest RCA employer with technical and video programs. The company is not new to education, having successfully developed and managed high school apprenticeship programs for nearly a decade.
"Our goal is to prepare tomorrow's workforce through real life work experiences today," said Work Based Learning Coordinator Caroline St. John. "Lexicon students are creating projects seen by real customers, and we could not be more excited about this opportunity."
Lexicon Studios and repair operations are located together inside the 50,000 square-foot Repair Factory to bring technicians literally into the picture, with one video angle showcasing the repair floor in background view.
"We partner with people all over the US and see this as a great way to share our technology expertise to better support their needs," said Lexicon President Dave Wiedman.
As Lexicon Studios production expands, videos can be viewed at LexiconTech.com/TV.
ABOUT ROCKDALE CAREER ACADEMY, INC.
Rockdale Career Academy (RCA) is a technology high school in the Rockdale County Public School System. A charter school, RCA is designed to prepare a variety of career and technical education programs to high school students across Rockdale County.
ABOUT LEXICON TECHNOLOGIES, INC.
Lexicon specializes in repair and maintenance of technology including tablets, smartphones, printers, point-of-sale systems, automated kiosks, barcode devices and security equipment. With maintenance programs designed for organizations throughout the US, Lexicon services retail, education, healthcare, government, transportation and technology industries. Lexicon engineers and technicians use industry-certified processes to repair products manufactured by Motorola, Honeywell, Intermec, Apple, Zebra and more. Lexicon's quality management system has been ISO 9001:2008 certified.