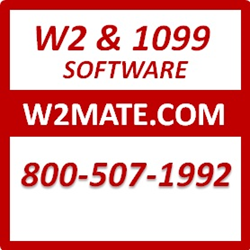 2014 W2 and 1099 software download now available at W2Mate.com
Chicago, IL (PRWEB) January 30, 2015
Windows-based W2 1099 processing software, W2 Mate®, has introduced the 2014 PDF creation engine which enables business filers across the United States to create unlimited number of ready-to-email employee W-2s and Vendors 1099s in PDF format without the need for expensive pre-printed forms, envelopes or stamps. More details and trial download are available at http://W2-Mate.com/ or by calling 1-800-507-1992 .
W2 Mate is a state-of-the-art W2 and 1099 system that can handle W2 and 1099 reporting to the Internal Revenue Service and Social Security Administration. The year-end solution also handles the requirements of state W2 and 1099 reporting.
W2 Mate is distributed electronically for instant download over the internet. The software can also be shipped on a CD. A free demo version is available at http://www.W2Mate.com/ for evaluation.
In the past, only larger companies could afford an advanced 1099 filing software system to manage W2 / 1099 printing and electronic filing process. With W2 Mate, any business can gain full-scale 1099 reporting management tools featuring state of the art integration with leading accounting and tax applications including Intuit QuickBooks, Microsoft Dynamics, Sage Peachtree and Sage DacEasy.
Bulk TIN Matching gives 1099 payers the ability to check the TIN (Taxpayer Identification Number) provided by the payee (recipient) against the IRS records. Bulk TIN Matching will allow authorized users to submit up to 100,000 name/TIN combinations for matching. W2 Mate users can generate TIN Matching requests according to IRS specifications in a special file format and then use IRS eServices website to transmit their requests. Within 24 hours of sending a request, the submitter will receive a response file, which indicates the status of each TIN/Name combination. W2 Mate users can read and analyze the response files received from the IRS e- Services website.
W2 Mate Software Highlights:
TIN matching and verification including reports for missing TINs and TIN matching errors;
Automatically calculates Social Security and Medicare taxes For paper filers 1096 and W3 are automatically generated;
Supports Windows 8, Windows 7, Windows Vista, Windows XP, Windows Server 2003, Windows 2000 or Windows 98;
Complete 1099 electronic filing software for accountants, CPAs and small business
Prepares unlimited number of 2014 1099 and W-2 tax forms for multiple employers and payers;
Complies with 2014 IRS Specifications for Filing Forms 1099 Electronically and complies with SSA Specifications for Filing Forms W-2 Electronically (EFW2);
Prompt, courteous and reliable US-based support through phone, chat or e-mail;
Generates ready-to-email 2014 W-2 forms and 1099 forms Which eliminates the need to print and email W2s and 1099s;
SSA approved to print W2 & W3 forms on regular white paper, which eliminates the need for expensive forms ;
Data import from MS Dynamics, Great Plains, Intuit QuickBooks, Sage Peachtree, Sage DacEasy, Excel and CSV Data import from QuickBooks removes the "800 Form" / "$10 Million payroll" maximum limitation;
Prints 2014 1099 recipient copies on regular white paper;
Efficient and intuitive manual W2 / 1099 data entry;
Supports 1099MISC, 1099K, 1099INT, 1099DIV, 1099R, W2, W3, 1096, 1099S, 1098T, 1098, 1099A, 1099B, 1099C, 1099PATR, 1099OID;
Roll-over of payer and recipient information from year to year;
Password protection and data validation;
Generates printing labels, form totals and recipient lists;
Network ready with affordable pricing for multiple seats;
Exports W2s and 1099s to excel;
Data Backup and restore;
Secure and reliable;
Supports foreign recipient address for 1099 forms (such as Canadian);
Imports W2 data from EFW2 format;
W2 Mate 2014 can be downloaded by visiting http://W2-Mate.com/download-1099-filing-software/ .