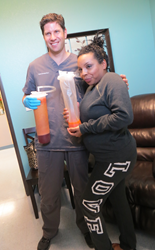 "My friends call me Ms. New Booty," says DJ Lady G and MyShape Lipo patient.
Las Vegas, NV (PRWEB) January 30, 2015
Going green, organic living, and recycling have been the hype over the past few years and MyShape Lipo is re defining the concept on a whole new level. Through Liposuction fat can be removed from unwanted areas and re injected into the same patients butt or breasts to increase volume, and enhance the area. Fat Transfers have become extremely popular among those who are apposed to implanting anything un-natural.
Previously if a patient wanted a shapelier figure, there was no other option then to have an implant placed into the buttocks or breast. This option comes with an array of potential issues. Implants are a foreign object to the body, so some patients may reject the implant, which can be dangerous and costly to correct.
Trevor Schmidt PA-C is the liposuction specialist and owner at MyShape Lipo. He has performed over 15,000 procedures. Schmidt has developed his own techniques to perform the fat transfer procedure under local anesthesia while the patient remains awake. This has decreased the risk of the procedure remarkably by avoiding general anesthesia all together.
"We have had an amazing success rate with the fat transfer to the breasts and the butt," says Schmidt. "Patients are in awe over the natural look and feel of their enhancement since it's their own fat. The results are phenomenal and I take great pride in helping my patients achieve their desired goals."
"My friends call me Ms. New Booty," says DJ Lady G and MyShape Lipo patient. "The process was simple and the staff at MyShape are awesome. My confidence level is through the roof and I can't stop looking at myself. I'd recommend this procedure to anyone who is looking to enhance their current shape."
Studies show that most women will experience about one cup size increase from the fat transfer to the breasts.The fat can be placed in specific areas of loss giving the breast a fuller, and lifted affect.
When performing the fat transfer to the buttocks, Schmidt recommends taking the fat from the waistline to get the best results. This creates the hour glass affect on the sides of the waist as well as accentuates the butt.
"This procedure is extremely rewarding for me," says Schmidt. "It solves issues for these patients that have caused insecurities for years in just a couple of hours.There are a lot of people that simply don't want implants, so this gives them a real alternative.
About MyShape Lipo
MyShape Lipo is a specialty liposuction clinic located in Las Vegas. Trevor Schmidt PA-C, the liposuction specialist and owner has the experience of over 15,000 liposuction procedures. Patients fly in from around the world for their affordable prices, world class customer service and extensive experience in liposuction. For a complimentary consultation via phone or in person, call today, 702-818-5476 or visit them online at http://www.MyShapeLipo.com