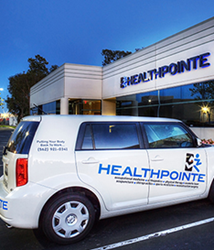 Dr. Nario brings extensive experience in pain management and kinesiology to his role as lead Chiropractor
La Mirada, CA (PRWEB) January 30, 2015
Healthpointe, a multidisciplinary medical provider in Southern California, presents its newest Chiropractic practitioner Mark E. Nario D.C. Currently practicing at the Los Angeles Healthpointe clinic, Dr. Nario brings extensive experience in pain management and kinesiology to his role as lead Chiropractor. Under this role, Dr. Nario will diagnose, treat, and prevent musculoskeletal issues and disorders, particularly those affecting the spine. A few common ailments that benefit from chiropractic care include: arthritis, carpal tunnel syndrome, disc problems, sciatica, and whiplash injuries.
In 2002, Dr. Nario received his Bachelors of Kinesiology from Cal State Long Beach. After studying human kinetics, also known as human movement, Dr. Nario earned his Doctor of Chiropractic degree from the Southern University of Health Science in Whittier, California. He is currently an active member of the American Chiropractic Association, an organization which emphasizes the standards of ethics and patient care for all chiropractic patients.
Through the use of various minimally invasive techniques and procedures, Dr. Nario is able to help patients maintain a healthy lifestyle while possibly avoiding surgery and/or extensive drug use.
For more information on the availability and procedures offered by Dr. Nario, please call (800) 956-2663 or schedule an appointment through http://www.HealthpointeMD.net.
About Healthpointe:
Healthpointe is a leading multidisciplinary healthcare organization offering a full range of medical services in practice locations throughout Southern California (Los Angeles County, Orange County, San Bernardino County, and Riverside County). Healthpointe has locations situated in over 10 cities in Southern California including Los Angeles, which is conveniently located near the LAX airport, Culver City, Huntington Park, Alhambra, and Inglewood. As a highly regarded musculoskeletal group, we have a personal investment in the highest level of service, and we are proud of our record of excellence over the last four decades with private patients, injured workers, urgent care, personal injuries, and professional and non-professional athletes. Leading our organization is a dynamic team of healthcare professionals who continually strive to be at the forefront of medical innovation and healthcare service delivery. For more information, a complete list of services, and Healthpointe locations, visit http://www.Healthpointemd.net