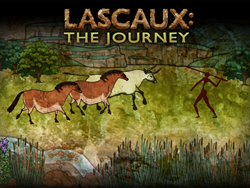 Seattle, WA (PRWEB) February 03, 2015
Seattle's Fat Pony Games announces the launch of its debut tablet game Lascaux: The Journey
Inspired by the ancient cave art of France, Lascaux: The Journey is the adventure of a small tribe fleeing the great ice flows covering their homeland 20,000 years ago. In search of a new home, they find a sheltered river valley that offers protection to humans and animals alike.
Success depends on an effective hunting strategy, opportunistic foraging, and a tribe with the right balance of skills. The player leads the tribe through the trial of finding shelter and enough food to survive the cold winters as they explore the valley and progress towards the cave of Lascaux. It's a lovely land, if one isn't busy freezing, starving, or being killed by cave bears and mammoths.
Designer and artist Karen Laur's vision for the game arose from a love for the subject matter. "I have always considered the animal paintings of Lascaux to be some of the most profound art ever made. The obvious depth of understanding the artists had for their subjects made me realize how deeply they lived in the environment. Our game came from a desire to bring those cave walls to life, and to in some way experience that world," said Laur.
"We used the Unity game engine so we could focus on creating a fun, interesting experience and easily bring it to both platforms, iOS and Android," said Bill Wright, the programmer and system architect of the game world of Lascaux. "I hope that managing the needs of your tribe, learning the tools and skills they need to survive, and discovering the world they live in will be as fun and enjoyable for players as it was for our small team to build."
Designed for iPad and Android tablets, Lascaux: The Journey available in the Apple Store, Google Play and Kindle App Store
About Fat Pony Games
Fat Pony Games was founded in 2014 by artist/designer Karen Laur and engineer/designer Bill Wright, both long-time game developers.
Karen Laur started her career at Starwave in 1995, shortly before joining Valve as lead texture artist on Half Life. Following Valve she continued as long time art director for the 3D simulation and massively multiplayer world creating company Forterra. Most recently Lead Artist at Subutai, Karen returns to her first love, mixing fine art with fine gameplay.
Bill Wright began his career at Zombie, Inc in 1997 as a programmer on the Spec Ops series. As Zombie's Technical Director he spent 14 years making games on PS2, Xbox, PS3, Xbox360, PC and mobile. Shooters, simulations, physics games and more! As CTO of Meteor Entertainment he built a team that created the backend services for the F2P PC game Hawken. Now he is enjoying the small team atmosphere of mobile development, knowing and owning every line of code in Lascaux. Even the bugs.