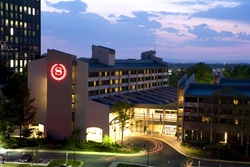 One of the most important ratings a hotel receives is that which comes from its guests," stated Claudia Eggspuhler, General Manager of the Sheraton Reston Hotel.
RESTON, VA (PRWEB) January 30, 2015
The Sheraton Reston Hotel was recently ranked #2 in Guest Experience Index in all the Starwood Sheratons Brand. A cornerstone of the Reston community for over 40 years, the hotel continues to take pride in helping each guest enjoy Sheraton's signature amenities and services to provide a differentiated, exceptional guest experience. The hotel is managed by Crescent Hotels & Resorts, a leading operator of hotels with over 80 properties in its North American portfolio, including 16 hotels in the Washington, DC area.
"Personal attention to every guest experience is part of the reason The Sheraton Reston Hotel continues to receive outstanding guest experience scores," stated Claudia Eggspuhler, General Manager. "Our building, doesn't create an experience, our associates do. It gives me a great sense of pride and gratification to have fulfilled the Starwood brand promise-connect with every guest."
Throughout the growth of Reston, VA, one of Washington, DC largest growing suburbs, the 298 room hotel has evolved as well. In 2014, the hotel received a major guest room renovation along with a refresh of it's over 20,000 sq. ft. of meeting and function space. The Sheraton Reston, located in one of the region's largest hi-tech corridors continually elevates its services to meet the ever changing needs of today's savvy traveler, adding hi-tech amenities such as WI-FI throughout the hotel, SheratonLink® (a state-of-the art business center), all while balancing technically travelers crave with what keeps guests coming back – the human touch.
The Sheraton Reston Hotel also keeps guest satisfaction scores well above the national average by constant renovation and updates to the hotel and its services as guest needs evolve. The hotel completed the final phase of an $8 million dollar renovation in 2014. The renovation included a re-designed of the lobby and check-in area and refresh of Syrah Restaurant and Cosmopolitan Lounge. Additionally, guest rooms have been updated, including new furniture, eco-friendly heating/air conditioning units, cabinets, lighting, carpets, wall paper, Sweet Sleeper® bedding, and in-room safes.
Special attention has been paid to the needs of meeting planners and their attendees as well. The 20,000 sq ft of meeting and event space, including hallways and prefunction area, all received new carpeting, giving a more contemporary feel. "We have received extraordinary feedback from our clients regarding our refresh of our meeting space," said Eggspuhler. "They particularly like the fact that we have such an expansive amount of space, and it's all located together on one floor. Most hotels that offer this amount of space require meeting attendees to toggle between floors to get to their various meetings. Having all space together gives our meeting attendees more time to connect with each other during meeting breaks. This is important because connecting is one of the core philosophies of our brand." The hotel also added three new suites to Sheraton Club Level and SPG Floors as well as a new Club Lounge for exclusive use of Starwood Preferred Guests.®
"One of the most important ratings a hotel receives is that which comes from its guests," added Eggspuhler. "Our dedicated, friendly staff at the Sheraton Reston Hotel provides outstanding guest services for those who select this recently renovated hotel for business travel, a vacation destination, wedding venue or conference."
For more information and to make reservations, please call (703) 620-9000 or visit SheratonReston.com.
ABOUT THE SHERATON RESTON HOTEL
The 298 room Sheraton Reston Hotel, located in an affluent suburb of Washington, DC overlooks a golf course, and is just minutes from Reston Town Center via complimentary shuttle, offering countless dining and shopping options. The hotel also offers complimentary shuttle to Dulles International Airport as well as the Silver Line Metrorail, giving guests a quick easy and fast connection to downtown Washington, DC. After a busy day of work or play guests can rejuvenate in the fitness center and seasonal outdoor swimming pool. Then perhaps enjoy a drink at the Cosmopolitan Lounge then dinner at the Syrah Restaurant. Event planners can take advantage of the 20,000 sq ft of meeting space located on one floor. For more information on the Sheraton Reston Hotel, please visit http://www.sheratonreston.com, call 703-620-9000, like on http://www.facebook.com/Sheraton.Reston.Hotel, follow on http://www.twitter.com/SheratonReston and connect on Google+.
ABOUT CRESCENT HOTELS & RESORTS
Crescent Hotels & Resorts is a nationally recognized, top-10 independent third-party operator of hotels and resorts. Crescent currently operates over 80 hotels and resorts, with close to 19,000 rooms in 29 states and Canada. Crescent is one of a small group of independent management companies approved to operate hotels under the Marriott, Hilton, Starwood, Hyatt and InterContinental flags. Crescent also operates a collection of legendary independent hotels and resorts. For more information, please visit http://www.chrco.com.
rw Stayinwashingtondc.com #stayinwashdc