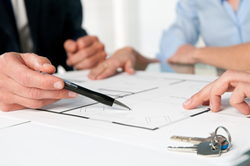 The Federal Savings Bank expects the market to continue expanding in 2015 with an emphasis on first-time home buyers
Chicago, IL (PRWEB) January 29, 2015
The Federal Savings Bank, a Midwest based lender was pleased with December 2014 new single-family home sales which showed a jump of 11.6 percent from the previous month, according to the U.S. Census Bureau and the Department of Housing and Urban Development. Sales of single-family houses rose to a seasonally adjusted annual rate of 481,000, up from 431,000 in November. Overall, new home sales increased 1.2 percent in 2014 to an estimated 435,000 from 2013.
There was a higher percentage growth of new single-family home sales than for existing homes in 2014. The National Association of Realtors reported total existing-home sales were down 3.1 percent in 2014 compared to 2013. Last year, there were 4.93 million sales of single-family homes, townhomes, condominiums and co-ops.
Despite this slight decline, December existing-home sales improved from the previous month, increasing 2.4 percent from November to a seasonally adjusted annual rate of 5.04 million. This reflects upward growth in the second half of the year after a sluggish start, according to NAR Chief Economist Lawrence Yun.
"Home sales improved over the summer once inventory increased, prices moderated and economic growth accelerated," Yun said in a statement. "Sales were measurably better in the second half - up 8 percent compared to the first six months of the year."
The increase in new home sales in December is a bright spot for the housing sector, The Federal Savings Bank expects the market to continue expanding in 2015 with an emphasis on first-time home buyers. This new single-family home sales report exceeded economists' expectations, and positive reports could increase confidence in builders and investors to continue this growth.
Home buyers considering buying a new or existing home could contact the Federal Savings Bank, a veteran owned bank, to learn more about being approved for a mortgage.