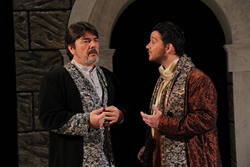 Tony Award-winning actress Julie Harris said of Elements, "Experience this unique company for yourself. You will not be disappointed."
(PRWEB) January 30, 2015
Press invitation for two to The Merchant of Venice presented by Elements Theatre Company. Choose from the following dates: Sunday, February 15, 7pm at the Elaine and Zollie Frank Theater, Mayer Kaplan Jewish Community Center, Skokie; or Wednesday, February 18, 7pm at KAM Isaiah Israel Synagogue, Chicago; or Sunday, February 22, 7pm at Dominican University, Performing Arts Center, River Forest. Each performance is followed by a panel discussion entitled A Pound of Flesh: Exploring Qualities of Mercy when Encountering "the Other"
Elements Theatre Company of Orleans, Mass., is a resident theater company whose core mission is to educate and illuminate through the arts. As part of its 2015 touring program to Chicago February 15 through February 23, the company will present Shakespeare's The Merchant of Venice as a springboard for thought-provoking and timely conversation on our culture's view of "The Other." Topics for discussion include serious issues of the day including prejudice, injustice, and assimilation.
Panelists include Michael Shapiro, Loyola University; Rabbi Frederick Reeves, KAM Isaiah Israel Synagogue; Fr. Michael Sparough, Bellarmine Retreat Center, Rev. Lillian Daniel, First Congregational Church of Glen Ellyn, Rabbi Evan Moffic, Congregation Solel, Sr. Danielle Dwyer, Elements Theatre Company; Rabbi Niles Goldstein, Center for Interfaith Engagement. Moderators are Manya Brachear Pashman, Chicago Tribune and Niala Boodhoo, WBEZ.
For more information, to arrange interviews, or to RSVP please reply to Jennifer Lynch at jlynch(at)gdaf(dot)org.