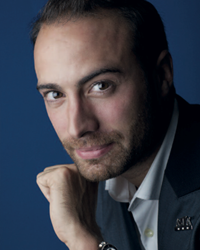 Ricardo Freire shares his secrets to network marketing success.
Frankfurt, Germany (PRWEB) January 30, 2015
In an in-depth interview with the German magazine Network-Karriere, ASEA Triple Diamond Ricardo Freire provided a glimpse into his philosophy for success and his way of working.
Find the article by clicking the following link- Note: this article is in German. You can read about Ricardo Freire, young entrepreneur, in English here in our International Leaders webpage and here is the German Network-Karriere article.
ASEA, LLC which launched in late 2010, manufactures the world's first and only Redox Signaling supplement. These Redox Signaling Molecules in ASEA support the vital activity of cellular repair and replacement that are necessary for optimal cellular health. For more information please visit http://www.OurGlobalHomeBusiness.com.