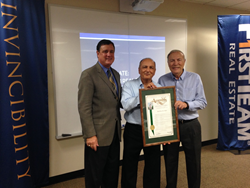 "Year after year, Mr. Merage has made major investments in our agents to improve their skills, knowledge, and ability to identify great transactions and values for buyers and sellers," explained Chris Pollinger, Sr. VP Sales for First Team Real Estate
Irvine, CA (PRWEB) January 30, 2015
First Team Real Estate CEO and Founder, Cameron Merage has been named to the widely watched and reported Swanepoel Power 200 as one of the most powerful leaders in real estate nationally. The news comes during a hot real estate market where consumers have named First Team Real Estate as the real estate brand they trust most in Orange County.
"For over a decade, First Team Real Estate has led the extremely competitive Orange County real estate market and Mr. Merage has always led the way," said Chris Pollinger, Senior Vice President, Sales for First Team. "He has built this company by supporting and training each agent as they listen and serve buyers and sellers in nearly every neighborhood in Southern California."
In 2014, First Team Real Estate completed a major invitation only brand alliance with Christie's International Real Estate, was named the tenth largest real estate brokerage in the country, completed over $3.4 billion in transactions, and for the fourth year in a row was named by readers of the Orange County Register as the most trusted real estate company in the region.
"Year after year, Mr. Merage has made major investments in our agents to improve their skills, knowledge, and ability to identify great transactions and values for buyers and sellers," explained Pollinger. "To date, First Team has trained over 7,500 agents since 1976 and Mr. Merage is highly involved in the training process."
The Swanepoel Power 200 has been widely featured in major national business media including Forbes, the Wall Street Journal, Bloomberg and other outlets. For more information on the report, click here http://ow.ly/l7dWy.
ABOUT FIRST TEAM REAL ESTATE
Growing from a single office in Huntington Beach, CA in 1976, First Team Real Estate is now Southern California's largest and most trusted private real estate agency with offices across California. In 2011, 2012, 2013 and now 2014, First Team has been recognized as Best Real Estate Company by the annual Orange County Register survey of 100,000 Southern California households. We can be reached at (888) 236-1943.