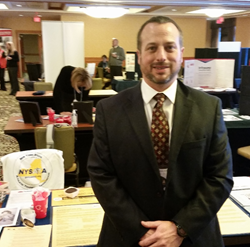 The Family Physician Winter Weekend allows ATs to interact with primary care physicians and promote the value of ATs as a part of the family physician healthcare team.
Lake Placid, NY (PRWEB) January 30, 2015
As advocates for quality and continuity of care, the New York State Athletic Trainers' Association (NYSATA) continues to develop relationships with various medical and healthcare professions and their organizations. After successful involvement in the New York State Academy of Family Physicians (NYSAFP) Winter Weekend and Scientific Assembly the past two years, NYSATA again participated by sponsoring an exhibit booth to network with family physicians from January 23-24, 2015 in Lake Placid, NY.
NYSATA has been taking advantage of any opportunity to interact with other medical providers that athletic trainers (ATs) may need to work with as part of a comprehensive healthcare team. Kurt Pfaffenbach MS, ATC (South Colonie Schools, Albany, NY) managed the booth for NYSATA, explaining to NYSAFP member physicians and medical students the many benefits certified athletic trainers can provide, including valuable information on the mechanism of injuries and follow-up progress during rehabilitation since ATs are typically on-site with the student-athlete population. Pfaffenbach also reiterated that athletic trainers are highly experienced with clinical orthopedic assessment techniques and well-educated on the most current practices in emergency management of potentially catastrophic injuries, illnesses, and conditions, such as concussions and heat-related illnesses, as they relate to athletic activities.
Regarding his experience at the conference, Pfaffenbach noted, "The Family Physician Winter Weekend is an excellent conference that allows athletic trainers to interact with primary care physicians and promote the value of having certified ATs as a part of the family physician healthcare team."
NYSATA recognizes that the NYSAFP Conference provides a great opportunity for athletic trainers to interact with family physicians and emphasize that ATs are the premier healthcare providers for athletic and active populations. In the previous two years, NYS athletic trainers were also included in the sports medicine educational sessions, having presented and assisted with the workshops for orthopedic and sport-related topics, such as concussion management and clinical orthopedic assessment techniques. It is clear there is a growing relationship between the two groups, which NYSATA greatly values and hopes to continue in the future.
NYSATA, founded in 1976 and incorporated in 1989, stands to advance, encourage and improve the profession of athletic training (AT) by developing the common interests of its membership for the purpose of enhancing the quality of healthcare for the physically active in NYS. Athletic training is practiced by certified athletic trainers (ATs), who have expertise in the assessment, emergency management, rehabilitation and prevention of acute and chronic sport-related injuries, illnesses and conditions, including concussions. Comprised of over 1,200 certified and practicing athletic trainers, NYSATA is the state-wide affiliate of the regional EATA and District Two of the NATA.