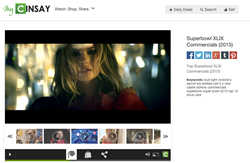 Using video on product pages increased Zappos' sales by up to 30% while shoppers who viewed these videos on product pages were 144% more likely to add to cart
AUSTIN, TX (PRWEB) February 02, 2015
Now that Super Bowl XLIX is over and the Patriots have won, viewers are still talking about the annual parade of television ads released for the huge event. People are busy critiquing the creativity, theme and production while sharing them online and on social media.
While these videos are created to invoke some kind of emotion, they are also strategized to sell more products and services. Companies don't casually spend up to $4 million for a fleeting 30-second spot without expecting some measurable marketing and branding results. Last year's Super Bowl event was viewed by just over 112 million viewers around the world, so the marketing impact can potentially be huge. But, where does the value for that commercial budget go after the game is over?
Cinsay has been hosting, sharing and monetizing some of those very commercials through the world's first multi-patented video player with built in transaction capability shareable in nearly all-social media. This has helped to consistently create a larger opportunity for higher conversions towards purchases. Cinsay not only monetizes video towards purchases but also donations for non-profits and charitable organizations as well as political campaigns. By building the transaction within the video player it transacts where friends, family and colleagues share it. In fact merchants from small to the largest retailers have experienced conversion rates from 2 to 4 times higher than traditional marketing using Cinsay's revolutionary technology.
With the click of a mouse, Cinsay's video player with transactional technology allows users to not only watch their favorite commercials and videos, but purchase products right from within the video player itself. Cinsay's entire platform is shareable in Twitter, LinkedIn, and Tumblr and it is fully embeddedable inside Facebook, Weibo, Renren, WeChat and many other global social media networks around the world. Whether you want local or global sales Cinsay technology knows no boundaries. This technology collapses the roadblocks to impulsive buying providing consumers the best on demand purchasing power possible.
How effective is online video? Mediapost reported this month that on the power of video for conversions by saying, "The presence of video can increase the average order value by about 50%". Also adding to the fact that "88% of brands said that their conversion rates increased when video was placed on product pages".
By using video as a means to sell more products, Cinsay has developed their patented platform to do just that. While also being viewed on mobile devices, video has now "comprised 25% of ecommerce video plays". What businesses are beginning to realize is by having a product video, they can show the quality of a product and provide all the details that could have easily been overlooked. Therefore making room for smarter, faster on demand purchases.
According to BigCommerce.com "using video on product pages increased Zappos' sales by up to 30% while shoppers who viewed these videos on product pages were 144% more likely to add to cart". Brand management is escalating to a whole new level, giving all consumers the upper hand while shopping online and providing brands with a much more compelling and effective way to market to targeted audiences.
So to get started, we've rounded up the best 2015 Super Bowl XLIX ads viewers saw yesterday. Click here to experience a world of product placement and brand management like never before. Ads include: McDonalds, Doritos, Skittles, Snickers, Victoria's Secret, Bud Light, Dove, Mercedes, Kia, Wix, New Castle, T-Mobile, Carl's Jr. and Go Daddy.
http://mycinsay.com/c/Superbowl-commercials-2015/mcdonalds-dove-budlight-snickers-skittles-victorias-secret-doritos/
Click here to see how Cinsay can drive more marketing and sales value for retail brands. http://www.Cinsay.com or call 1-855-725-2462
About Cinsay
Austin-based Cinsay has created a next-generation ecommerce, viewer interactive, video-based platform for any size business. Cinsay's syndicatable technology enables anyone to sell products, display printable coupons, capture donations, and generate leads all inside its multi-patented Video Smart Store™ (VSS) technology. Along with being the premiere video commerce provider for small and medium businesses, Cinsay is adding new exclusive content channels for sports, music and movies aligned with partners including Andretti Autosport via AndrettiTV.com and Suretone Entertainment via their site SureToneLive.com and has been selected as a software provider to SMBs via Yahoo's Commerce Central.
Forbes named Cinsay one of "America's Most Promising Companies" while eTail Conferences named Cinsay a "Rising Star in innovation" for 2012. Red Herring also selected Cinsay for the "Top 100 Companies in North America" for 2014. Cinsay's eCommerce video-based platform can be used for any individual or business.
One or more of the following nine patents may protect Cinsay's software, systems, and/or services. U.S. Patent Nos. 7,840,415; 7,987,098; 8,769,053; 8,782,690; 8,813,132; 8,312,486; 8,533,753; 8,893,173 and 8,549,555.