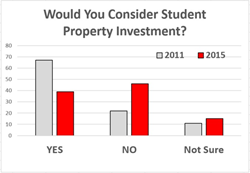 Promised returns from student pods are not achieved and they can be hard to resell as there is no resale market
Lancashire, UK (PRWEB UK) 30 January 2015
Find UK Property conducts regular surveys on non-residents who are looking to buy or have purchased property in the UK. A recent survey conducted in early January 2015 shows significant changes, with negative views on student property investments almost doubling when compared with a similar study done in 2011.
Investors living overseas (include expats and foreign nationals) see the UK as secure country for long term investment. Many want to use the rental income for children's UK education, their UK holidays or ultimately as a pension.
When asked about student property investment in the 2015 Survey, 46% said they would not even consider it compared with only 22% in the 2011 Survey. In 2011 67% would consider student property investments whereas the figure in 2015 has fallen to only 39%.
The 3 most common reasons for the switch away from student property investments was cited as follows:-
1. The promised guaranteed returns are not achieved due to hidden costs, service fees and clauses in the management contracts.
2. The investments are difficult to re-sell as there is no third party re-sale market. They can only be sold to another investor.
3. Risks are higher as many student properties are sold off-plan and banks will not re-mortgage these due to the poor re-saleability – so funds cannot be released in this way.
Andy Noble, Senior Marketing Consultant at Find UK Property said "Most such student properties consist of pods which are effectively leasehold rooms in a student flat. Such pods are built by developers and sold normally prior to completion, by sales companies and then managed by student accommodation companies. Many years ago we used to resell student investments from various developers but we stopped doing this as the promised growth and net returns were not achieved and it was difficult for us to resell the student pods when our clients wanted to exit the investment. Other reports have shown similar issues."
He added: "We have found that real freehold properties in the form of fully managed standard low cost houses away from London, offer the best net returns, good capital growth and are low risk. It is easy for investors to exit the investment as these properties can be sold to anyone in the market."
About "Find UK Property"
Find UK Property are the 'buyers' agent and specialize in helping serious overseas buyers find the most suitable investment property for their needs. The company conducts regular surveys on overseas investors and findings are printed at their "UK Property News" Blog at http://blog.findukproperty.com.
The most popular purchase are the fully managed low cost houses in the price range of £55,000 to £70,000 that come with full management, repair guarantees, and guaranteed rent. Many clients are seasoned investors who may have purchased investment property in other countries via sister companies Openshore Property and Sandcastles based in Dubai. Further details can be found on the Find UK sales website at http://www.findukproperty.com