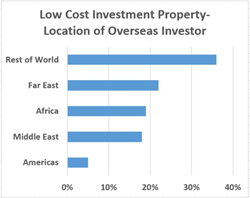 investors in the Far East see the UK as secure country for long term investment
Lancashire, UK (PRWEB UK) 30 January 2015
Find UK Property conducts regular surveys on non-residents who are looking to buy or have purchased property in the UK. A recent survey conducted in December 2014 showed that investors from the Far East are now one of the largest groups of overseas nationals that are buying low cost investment property in the UK outside London.
In particular there were high percentage of investors from countries such as Hong Kong, Malaysia, Singapore and China.
In previous surveys, Africa was also one of the largest areas with many such investors from the main countries in Central Africa (Nigeria, Ghana, Congo, Gabon, Cameroon and Senegal) whilst others were from South Africa.
Andy Noble, Senior Marketing Consultant at Find UK Property said "Such investors in the Far East see the UK as secure country for long term investment with the aim of using rental income for children's UK education, their own UK holidays or ultimately as a pension."
About "Find UK Property"
Find UK Property are the 'buyers' agent and specialize in helping serious overseas buyers find the most suitable investment property for their needs. The company conducts regular surveys on overseas investors and findings are printed at their "UK Property News" Blog at http://blog.findukproperty.com.
The most popular purchase are the fully managed low cost houses in the price range of £55,000 to £70,000 that come with full management, repair guarantees, and guaranteed rent. Many clients are seasoned investors who may have purchased investment property in other countries via sister companies Openshore Property and Sandcastles based in Dubai. Further details can be found on the Find UK sales website at http://www.findukproperty.com