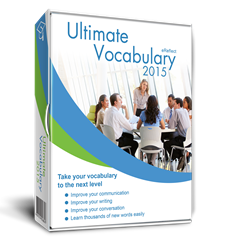 A habit as simple as looking out for new words people speak throughout the day will help people add those words to their existing vocabulary.
(PRWEB) January 31, 2015
eReflect and Ultimate Vocabulary™, a vocabulary builder software program, strive to promote awareness about the importance of having a good vocabulary. In a recent blog post on the Ultimate Vocabulary™ site, the eReflect editors explain the seven key techniques that can help anyone improve their vocabulary. In addition, the techniques provide training in how best to use language in writing and in speaking more confidently.
"Be an ardent observer of language" is the first recommendation shared by eReflect. By observing the use of language with the curiosity of a young child, a person will pay greater attention to words and their application. Someone who has the interest and curiosity of a child will find it easier to learn, absorb, and ultimately master any skill. A habit as simple as looking out for new words people speak throughout the day will help people add those words to their existing vocabulary.
Repetition is crucial for language learning, and vocabulary improvement in particular. eReflect encourages people to practice their vocabulary often, and to use a variety media and methods, to ensure they truly master their new words and can use them with confidence in the right context.
One very useful strategy shared by eReflect is making sure that new words are used right away. The editors stress that people should make every effort to incorporate the new words they learn into their conversations and communication, whether that is an email to a colleague or a brief chat with a stranger on the train. People are often intimidated by using new words, eReflect notes, fearing they will use the words in the wrong context. The solution to this is to become acquainted with examples of how each word is used. Seeing how a word behaves and changes meaning according to context helps the learner understand those nuances that make all the difference in forming a truly skilled communicator. As eReflect remarked today, "Starting to improve vocabulary should not be intimidating. It's a matter of consistent, strategic practice. Often, having the help of a vocabulary program accelerates the learning process because everything is well structured and designed by experts to help you learn new vocabulary fast. Power vocabulary is an indispensable tool in business, but it's also one that everyone can benefit from. We encourage everyone to try these seven techniques and see for themselves how they will help to master new vocabulary easily."
***********
For more information on how you can benefit from Ultimate Vocabulary, please visit its official website, http://www.ultimatevocabulary.com.
About Ultimate Vocabulary™
Ultimate Vocabulary provides a proven and powerful platform, built to improve anyone's vocabulary.
The interactive self-improvement system provides more learning tools than any other program on the market, as well as more information on words.
The Ultimate Vocabulary software provides each and every user with a personal computer tutor. Providing a step-by-step guide to learning a powerful vocabulary, Ultimate Vocabulary is the learning tool everyone can benefit from.
Of course, the software is also backed by eReflect's iron-clad money back guarantee.