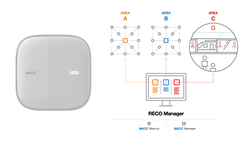 "That is why we have developed the RECO Manager. We want to help businesses easily manage beacon systems of any size.
Seoul, South Korea (PRWEB) February 02, 2015
Perples successfully entered the market with RECO Beacon, a Bluetooth Low Energy beacon that has gained popularity in part because of its easy to use app development kit. Now, continuing in their goal to make beacons accessible for all businesses, Perples is releasing the next generation of Bluetooth beacon technology, the RECO Manager.
"While many of our competitors focus more on beacons for personal use, we focus more on the needs of businesses." said Byung-Hoon Chung, Chief Strategy Officer, Perples, Inc. "That is why we have developed the RECO Manager. We want to help businesses easily manage beacon systems of any size."
RECO Manager functions as a "mother" beacon, allowing remote management of all beacons in its range from anywhere in the world through the web-based RECO Cloud Console. While previous BLE beacons offered businesses a myriad of new ways to interact with their customers, businesses still had to manage each beacon individually and on-site. Perples eliminates these hassles with RECO Manager.
In addition to Wi-Fi access, the RECO Manager also supports POE (Power Over Ethernet), which not only provides secure Internet access but also power through LAN cables without traditional power cables and adapters. Whether businesses prefer Wi-Fi or Ethernet, the RECO allows simple installation in stores or venues without having to worry about power supply issues.
RECO Cloud API is also available, allowing users to easily integrate beacon management functions into their existing management systems.
Perples began accepting pre-orders for RECO Manager Jan. 29th, and expects to begin shipping units in May.
For more information about the RECO Manager, visit http://reco2.me/
Perples Inc. is a Korean tech company creating complete micro-location-based communication technology solutions. Following up on the success of its SoundTAG product, which used ultrasound, Perples has recently released RECO, a BLE-based beacon developed with proprietary software and hardware for high-level performance. With best-in-class signal strength and stability, it is poised to make waves in the proximity-based communication and tracking industry.
For more information visit http://www.perples.com