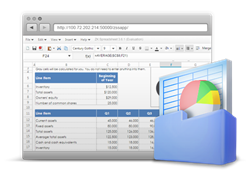 ZK Spreadsheet Server is a ready-to-use online Excel-like spreadsheet application that can be hosted on premises
London (PRWEB) January 30, 2015
The ZK team has again innovated using cutting edge technology to unveil another product line - ZK Spreadsheet Server, a standalone and ready-to-use online Excel-like spreadsheet application service that can be hosted on premises and share and collaborate with others easily via an URL.
Inheriting features from the popular ZK Spreadsheet component developers are familiar with, ZK Spreadsheet Server also delivers rich excel functionalities within browsers including Excel & PDF compatibilities, formulas, charts and many more! Unlike ZK Spreadsheet component which is embeddable in applications but involves programming, ZK Spreadsheet Server's installation is as easy and user friendly as any other desktop application involving zero programming.
ZK Spreadsheet Server is also the only online spreadsheet solution that can be hosted on premises in the market. The advantage of an on premises solution is that it provides the highest security and privacy, protecting business data from any 3rd party host. ZK Spreadsheet server is an ideal solution for companies who are looking for a quick and safe online spreadsheet service.
Some feature highlights of ZK Spreadsheet Server include but not limited to:

Share and collaborate in real time
Excel® and PDF compatibility
3D cell and external book reference
Sorting, filtering, formulating and auto-filter
Freeze rows and columns
100+ built-in formula functions
Easy installation, just a few clicks away with no programming involved
Install once and access anywhere from a browser without plugins
Supports Windows, Mac, Linux
For more information, please visit the release note.
About Potix
Potix Corporation develops and supports ZK, the #1 Java based Ajax solution on SourceForge.net, the world's largest open source host. Innovation is the most driving force behind the growing Potix. Potix delivered the first Ajax framework to support Java and Android phones, the first embeddable Ajax spreadsheet, and the first to synergize the power of pure Java, markup and scripting languages.
ZK has more than 1,500,000 downloads since its first release in late 2005. ZK is deployed by a large number of Fortune Global 500 companies, including Barclays, Societe Generale, Swiss RE, eBay, Roche, Deutsche Bank, Sony, Sun Microsystems, Audi, EMC and Toyota, providing them with the ability to rapidly create rich Ajax enterprise level applications.