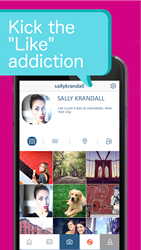 LikeBlockr is the ultimate challenge to the "like' system Instagram and other social media platforms depend on
Boston, MA (PRWEB) January 30, 2015
The highly anticipated anti-social networking app LikeBlockr is now available in the App Store. LikeBlockr is the world's first social networking app allowing users to hide "likes" and "followers" from Instagram. LikeBlockr questions the authority and value social media places on the currency of likes.
The beautifully designed app seamlessly integrates with Instagram, creating a familiar social media experience without the distraction of popularity. Users enter the app through their Instagram login, where they can scroll through their feed without the visibility of followers and likes. LikeBlockr is a fresh take on existing social networking apps with its ultra simple user interface, accompanied by neat and familiar graphics.
It is important to note that the app does not alter, or delete any of the content stored on Instagram. One feature that makes LikeBlockr stand out is the minimalist and clean art style, which, combined with simple navigation and familiar layout, will win over its users instantly. " The intention of the app is to disrupt the "like" mentality of existing social networks," says artist and founder Dan Zimmerman. "Now Instagram users can decide which photos they like without being under the influence of which photos have the most "likes.
LikeBlockr is now available for free on the App Store. For more information, you may visit their company website at likeblockrapp.com, or follow them on Facebook (http://facebook.com/likeblockrapp) and Twitter @likeblockrapp
About The Company:
Based in Vancouver, Canada and headed by artist Dan Zimmerman, LikeBlockr Inc. twists everyday technology with a subversive blend of social commentary. LikeBlockr Inc. straddles the line between useful and immersive social media experiences and controversial art experiments. Zimmerman is an internationally published author and multi-platform artist.
###
For further information on the app or to schedule an interview, please contact:
Dan Zimmerman
Phone: 1 (604) 828 - 1844
Email: info(at)likeblockrapp(dot)com
Twitter: @likeblockrapp
To download the app on Jan. 29th 2015:
https://itunes.apple.com/us/app/likeblockr-for-instagram/id947345160?ls=1&mt=8