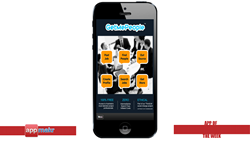 Another fantastic example of how businesses are using mobile apps to connect with their clients.
New York, NY (PRWEB) January 30, 2015
AppMakr, a leading DIY mobile app 0builder, today announced that the GetMePeople is the company's "App Of The Week" for December 28th-January 3rd.
Each week, AppMakr features one app from the thousands published using our app building tool, called The Machine. This app was selected because it demonstrates the quality of content, design and relevancy that mobile apps can bring to groups trying to make a difference in their community.
With more than 1 Billion smartphones now active in the world, 84% of those users are spending at least 1 hr each day on their smartphones, the base on potential mobile users for GetMePeople is massive and growing quickly by the day. It was this potential that motivated AppMakr to create an easy drag-and-drop app builder platform that enables anyone to create an app like the GetMePeople for free and without the knowledge of coding.
GetMePeople and thousands of small to large businesses, schools, blogs, sports teams and community groups have selected the AppMakr DIY app maker platform to create and launch their mobile app for Android, iPhone and over 5,000 different models of HTML5 compatible smartphones.
In a recent interview about building the GetMePeople app, Brendan Thannhauser, developer and owner of the app, told Appmakr the following about their experience entering the app economy:
Appmakr: What motivates you to go mobile?
Brendan: Going mobile is vital as it recognises that the best Services and Apps are those that are intuitive and available at each person's 'point of need'... Mobility allows people to tackle challenges immediately rather than deferring them and 'double or triple handling' them later which is inefficient and resource intensive.
Appmakr: How did you find AppMakr?
Brendan: I searched through reviews of free online App Building Services and tested around 10 different vendor products. AppMakr was the most intuitive and flexible especially when it came to App users being able to search 'submission reports' - using the data collected by our GetMePeople App. It provides a great visual interface that behind the scenes can link into powerful forms provided by industry leaders such as JotForm...
Appmakr: What impact do you think it would have on your community with this mobile app you've built?
Brendan: We hope to completely reshape how projects are resourced by giving free 24/7 access to talented project professionals - fully supported by an ecosystem of supplementary services. Traditional recruitment doesn't deliver in real-time, can be hugely expensive and too often misses the mark in terms of delivering the right professional. Beyond that, there are many older professionals who are very competent but passed over in traditional recruiting. GetMePeople enables these people to create a Profile that includes new features such as flagging that they will 'work for free for a Non-profit' and highlight their 'flexibility to travel'...
To create your own mobile app, and have a chance at being named App Of The Week, go to http://www.appmakr.com/ and get started today.
About AppMakr
AppMakr, an organisation now part of Infinite Monkeys is a do-it-yourself app creation platform that lets anyone make your own Native iPhone apps, Android apps and HTML5 mobile websites —with no coding required With four pricing options (FREE, $1/month, $9/month, $99/one time fee). AppMakr provides a range of affordable marketing solution to all small businesses, schools, community groups and individuals alike according to their needs.
By servicing the long-tail of niche interests with free and low-cost apps, AppMakr has become the largest DIY publisher of mobile apps in the world.
To learn more about how AppMakr is transforming the Mobile App Economy, please visit http://www.appmakr.com and follow https://www.facebook.com/AppMakr on Facebook as well as https://twitter.com/AppMakr on Twitter
About GetMePeople
GetMePeople is an online talent pool of seasoned Project Professionals. It is freely accessible to corporations and businesses across Australia and the world. Individuals can register by building a professional profile.
To download the GetMePeople app for your mobile phone, go to: http://apps.monk.ee/getmepeople
To learn more about GetMePeople please visit: https://play.google.com/store/apps/details?id=com.ima.fantastic.getmepeople