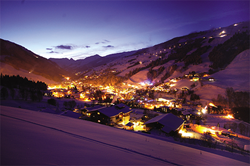 (PRWEB UK) 31 January 2015
When arranging a ski tour for a group, it is important to consider the needs and requirements of the individuals within the group, as well as the group as a whole. The following are some of the main things to consider:
1. Experience of the skiers in the group.
Does the group consist of experienced skiers, or will some of them be taking to the slopes for the first time? Does the group include a mixture of abilities?
Groups of mixed abilities will need to travel to a resort that offers a variety of runs, catering for all. If any of the skiers are still learning, the best option would be a resort that offers plenty of gentle slopes on to which they can progress. Conversely, a group of experience skiers should look for resorts that offer challenging runs.
2. Size of the ski area.
Whilst beginners will usually be content with a relatively small ski area, as they are unlikely to venture far, more experienced skiers may require a larger area to explore and stretch their ski legs.
Smaller resorts are normally the better option for beginners, as they are generally quieter and offer the opportunity for skiers to work on their technique, thanks to less-crowded slopes and shorter queues for the lifts.
One other factor to consider: are all party members skiers, or will some be snowboarding? If the group includes snowboarders, a ski area that offers a terrain park is worth consideration.
3. Type of accommodation.
For young groups, such as university students, for whom budget is a consideration, youth hostels are often a great choice. In this type of accommodation, guests will usually share multi-bedded rooms, although some twin rooms are usually available. This type of accommodation is basic, functional and often offers a vibrant atmosphere.
Alternatively, many ski resorts offer a number of family-run hotels which welcome groups. These offer a warm, friendly welcome, often with restaurants boasting menus featuring delicious, home-cooked, traditional dishes. This option is suitable for many different groups, including families and groups of friends travelling together.
As well as the type of accommodation, another consideration is the facilities required. For example, will the group need access to a ski storage/boot room? What about social areas/meeting rooms for the group to congregate in? Is there an on-site restaurant where groups can eat together?
4. Proximity to the slopes.
Is it a necessity that the accommodation offers doorstep skiing, or is the group happy to travel a short distance to the ski area each day? Doorstep skiing is more convenient, but does usually come at a premium. If the group is prepared to travel to the resort, this should keep costs down.
5. Après-ski activities.
One very important factor to consider when choosing a ski resort for a group is the opportunities it offers for après-ski activities. Whilst university students on a break from their studies may enjoy a lively resort with plenty of bars and nightlife, a family group may prefer a resort that offers some exciting non-ski activities, such as swimming, bowling, sledging or even bum-boarding! Each resort offers a unique après-ski scene and so it is important to choose the right resort for each group.
With so many factors to consider, many groups choose to book through a specialist group tour operator who will be able to help and advise them on the best resort to suit their needs. Halsbury Ski is one such tour operator and prides itself on offering honest, straightforward advice based on first-hand knowledge and nearly 30 years' experience.