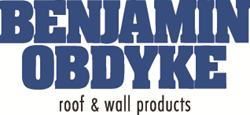 HORSHAM, PA (PRWEB) January 30, 2015
Slicker® HP Housewrap, the latest in Benjamin Obdyke's extensive portfolio of roof and wall products for the commercial and residential market, offers builders and homeowners the benefits of a premium water resistive barrier (WRB) and rainscreen in a single product solution. Ideal for both light commercial and residential applications, Slicker® HP Housewrap provides the highest level of moisture protection for an exterior wall.
Slicker® HP Housewrap is perfect for use with wood, fiber-cement and stone veneer or stucco cladding systems. Easy to install, the combination provides an all-in-one solution for water resistance, drainage and ventilation. The vertical channels of Slicker® HP's rainscreen element help to direct bulk water out of the exterior wall by creating a ¼ inch space for drainage and drying. The first combination of its kind where the rainscreen can be removed without compromising the housewrap, flashing integration is easier and better aligns with installer preferences.
Slicker® HP simplifies incorporating a rainscreen into the wall system for an installer. The building science community recommends at least a ¼ inch space for maximum moisture control in the wall. Typically a housewrap is installed then rainscreen is added as a second step. Slicker HP combines the housewrap and rainscreen together in one step, thus creating the ¼ inchgap and eliminating the two step process.
Slicker® HP is protected under the Benjamin Obdyke 20 year system warranty when installed with Benjamin Obdyke flashing accessories (HydroFlash, HydroCorner) and other compatible products).
For more information or to purchase Slicker® HP, visit BenjaminObdyke.com or our online retailer at BuyObdyke.com.
###
About Benjamin Obdyke Incorporated
Since 1868, Benjamin Obdyke has been helping architects, builders and contractors in the United States and Canada Build Better™ by developing and adding new advances to its product line. Benjamin Obdyke develops, sources, markets and sells proprietary roof and wall products that improve the building envelope and the performance of other building materials for the new construction, repair and remodel markets. Innovations from Benjamin Obdyke, such as the first roofing ridge vent on a roll, the first wood roofing underlayment and the first rolled product to provide drainage and air flow in rainscreen wall assemblies, have helped shape today's building practices. Headquartered in Horsham, Pa., USA, Benjamin Obdyke partners with a network of distributors, dealers, buying groups and cooperatives to reach building professionals in the United States and Canada. For more information, visit http://www.benjaminobdyke.com.
Follow Benjamin Obdyke Online:
Twitter at http://twitter.com/benjaminobdyke
"Build Better Blog" at http://www.benjaminobdyke.com/buildbetter/
Installation videos on http://www.youtube.com/user/benjaminobdyke