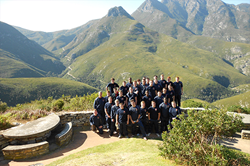 (PRWEB UK) 31 January 2015
School sports tours are, of course, a fun and exciting prospect for any young sportsmen and women, but they do also offer a number of fantastic benefits that make them a worthwhile addition to any school's extracurricular programme.
Firstly, the sporting benefits. Of course, the experience of competing against teams from another country opens your players up to the opportunity to witness different playing styles, potentially in facilities different to those that they are used to, allowing them to develop and enrich their skills. They will get to see the influence, traditions and impact of their sport in another country.
A school sports tour is also somewhat of an adventure for the vast majority of children lucky enough to take part in one and so is likely to create lasting memories. For many, this will encourage a lifelong passion for the sport, which will hopefully contribute to a healthier lifestyle in later work.
Certainly, at a time when more than half of UK adults are overweight or obese, igniting an interest in sports during childhood could be one way to combat what is a leading cause of heart disease, high blood pressure, type 2 diabetes and even some forms of cancer.
Another great benefit of a school sports tour is the overall effect on the team. Living and playing together will encourage team bonding during the course of the tour, allowing players to develop a number of key skills in teamwork, communication and leadership. It will also allow them to develop their interpersonal skills, as well as mutual trust and respect.
"By having a pre-season [training camp], it encourages pupils to get into the correct mindset for the new academic year." – Milton Abbey School, Loughborough Pre-Season Training Camp Tour, August 2014
A school sports tour is not simply about sport. Leisure time will allow students to explore their surroundings and take part in cultural activities. They will be immersed in the local culture, broadening their horizons and offering them plenty of learning experiences useful for a number of subjects which they study in school, including geography, languages, maths and history.
Travelling to a country which is not English-speaking will offer its own challenges and benefits for students. If they are studying the language of that country, they will have many opportunities to practise speaking with native speakers. If not, they will have to learn to overcome the language barrier, which will, in itself, further develop both their social and communication skills.
"Playing rugby professionally in France, I was able to learn the language and discover the country. I saw first-hand how sport can open many doors and that sports travel offers incredible benefits in terms of life experience." – Sam Jennings, Director of Sports Tours, Tours 4 Sport
Students may even form friendships with their local opponents, who will often host them for social events after matches have been played. This may lead to written correspondence, or even cultural exchange opportunities.
Perhaps most importantly, all of these experiences offered by school sports tours lead to a boost in self-esteem and self-confidence, which translates back into the classroom, as well as the school playing fields. As the School Travel Forum explained in their document, 'The Benefits of Outdoor Learning':
"Rising to new challenges and living alongside their peers helps pupils to become more adaptable and confident which is critical to so many areas of their development."
School Travel Forum, 'The Benefits of Outdoor Learning'
Tours 4 Sport is a school sports tour operator which specialises in creating tailor-made school and youth sports tours in the UK, Europe and abroad. Created from the belief in the educational value of school sports tours, Tours 4 Sport offers a range of tour experiences, including tournaments, pre-season training camps and even professional training experiences.