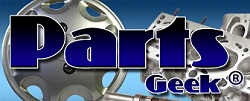 (PRWEB) February 02, 2015
As mentioned in an article written January 26th, 2015 and posted on Edmunds.com, nearly 87,000 2014 Kia Forte vehicles are being recalled due to an issue with the cooling fan resistor. In fact, if this issue is not corrected, the fan may overheat to the point of it melting and/or causing a fire. When it is time to bring in this vehicle for the recall, many mechanics may find other issues or parts that need to be replaced. However, those who would rather forgo ordering the part through their mechanic and instead replace it themselves can visit PartsGeek.com to find affordable replacement parts for their Kia Forte. In fact, Parts Geek has recently expanded their Kia Forte parts inventory to feature over 1,200 products.
Some of the auto parts and accessories that Parts Geek has available for the Kia Forte model includes: air filters, alternators, brake light bulbs, car covers, fuel filters, headlight bulbs, oil filters and TPMS sensors. Also, aside from offering auto parts and accessories for the 2014 model, customers will also see that they have products available for the 2010 to 2013 Kia Forte models as well as the 2015 model. Last but not least, many of their Kia Forte products are available for up to 80% off their retail prices and can be shipped via free ground shipping depending upon which replacement part the vehicle owner needs.
For potential customers who are concerned with the feedback Parts Geek has received for their Kia Forte parts, they will be happy to find that this leading online auto parts retailer currently has a perfect 5 out of 5 star rating. What's more, a recent customer also had this to say about his experience with the company and the KYB brand Strut Assembly he ordered: I am very pleased with my purchase. Awesome prices on here and I have told all my friends and family about you! I am very pleased with how quickly you ship. I will without a doubt be buying from you every time I need something. Thank you again!"
To see their full inventory of Kia Forte parts please visit Parts Geek's website today.
About Parts Geek:
Parts Geek offers an extensive line of auto parts, performance accessories, and part applications. While focusing on providing the largest supply of replacement parts, Parts Geek also provides the lowest prices on all new, OEM aftermarket and performance parts and accessories. Online, visitors will find an extensive catalogue of new and used parts for all domestic and imported cars and trucks. Since 1996, Parts Geek has been offering customers complete satisfaction with their high quality service. The company's main office is located in Marlton, New Jersey. The main office is open Monday through Friday, from 9 am to 6 pm, and Saturday from 9 am to 3 pm.
To hear more about the company, please visit http://www.partsgeek.com.