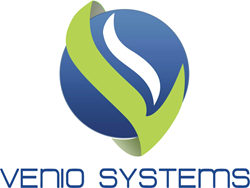 Industry trailblazers Babs Deacon and Robert Childress will be at Venio's booth 2613 throughout LegalTech.
Farifax, VA (PRWEB) January 30, 2015
Venio Systems, the leading provider of integrated e-discovery software for corporations, law firms and service providers, announced today that it will be exhibiting and sponsoring ancillary activities at LegalTech New York 2015. LegalTech takes place at the New York Hilton on February 3-5. Venio will be at booth 2613.
Venio will be demonstrating its flagship Venio Integrated eDiscovery Platform, which allows forensic units, attorneys and litigation support teams to analyze data, provide an early case assessment, a total case assessment and a first pass review of any size data set. It is a highly scalable tool built to deliver better results by providing more information, processing faster and increasing efficiency by reducing the redundancy of data storage and maximizing the use of automation.
The company will be joined at its booth by representatives of its newest customer, OPTiMO Information Technology LLC, a full-service technology solutions provider to customers throughout the federal and commercial market. OPTiMO IT's President and CEO, Michael Miguelez, has described Venio as "the best integrated eDiscovery Platform on the market" and is deploying Venio as part of its Managed Service eDiscovery offering to its government and corporate clients.
Venio is also a Presenting Sponsor of b-Discovery's 8th Annual All-Chapter Party to benefit the Harwood Center, which provides services to children from birth to three years of age with developmental disabilities such as autism spectrum disorders, Down syndrome, cerebral palsy, visual and hearing impairments, prematurity, behavioral disorders, and spina bifida. The event will start at 9 p.m. on Tuesday February 3 at ARENA NYC, 135 West 41st Street, and is open to all b-Discovery members and their guests. A charitable donation of $20 is suggested. Wooden tokens, which provide VIP access, will be available all day on Tuesday the 3rd at Venio's booth.
LegalTech will also provide Venio the opportunity to formally introduce its new Senior Vice President, Marketing and Sales, Robert Childress III and it's new Vice President of Training and Education, Babs Deacon. Both industry trailblazers will be at Venio's booth 2613 throughout the conference.
For more information about the Venio Integrated eDiscovery Platform please visit Booth 2613 at LegalTech New York or http://www.veniosystems.com.
About Venio Systems
Venio Systems, based in Fairfax, Virginia, is a team of innovators and developers with 20 years of experience in providing e-discovery solutions. Venio Systems was created to address the industry's lack of truly integrated e-discovery systems. Venio Integrated E-Discovery Platform is a fully functional web-based application designed to provide law firms, corporations and government entities the ability to manage all phases of discovery from a single tool. Venio Systems remains on the forefront of innovation to provide solutions anyone can use. For more information, visit http://www.veniosystems.com/.