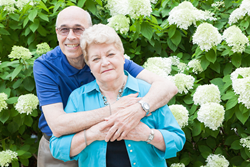 "I always say to visitors, 'welcome to paradise,'" said Sally Kinnamon
(PRWEB) January 30, 2015
In honor of the anniversary of the first residents moving into The Clare six years ago, residents Sally and Ron Kinnamon share their joy. They were among the first to move into The Clare and pleased with their decision due to the engaged community, wonderful location and fabulous food.
"I always say to visitors, 'welcome to paradise,'" said Sally Kinnamon. Sally and her husband Ron were among the first to move into The Clare, a luxury retirement community in Chicago's Gold Coast, in 2009. "Retirement communities used to have the stereotype of being a place to lay down and die. At The Clare, you move into a situation where you can really live," said Sally. "The engaged community, wonderful location and fabulous food…it's a good life. It's a very good life."
Sally and Ron had been living in a condominium in the Lincoln Park neighborhood of Chicago for 19 years, when they decided to move to The Clare while the community was still under construction. "It was whimsical actually," Sally recalled. "We heard about plans to build The Clare, and went to learn more, just out of curiosity. They had models at the Hancock Building." The Kinnamons instantly loved what they saw, and quickly made a deposit on their 38th floor, customized apartment. They moved into The Clare in January 2009.
The Clare offers independent living residences, as well as assisted living, memory support, respite, rehab and skilled nursing; thus comprising a complete continuing care retirement community (CCRC). "My parents had lived in CCRC's and so we knew that was a wonderful option as we can stay here, even if our health changes," said Sally. "Moving here was a gift to ourselves, but also a gift to our children. They won't have to worry about our futures."
The Kinnamons said that hardly a day goes by when they miss commenting on what a great decision it was to move to The Clare. "The sense of community at The Clare is extraordinary. It has been like moving into a fantastic small town. The people are absolutely fascinating, caring, interesting and sophisticated. That becomes even more the case with our growing number of residents," said Sally. "It's hard to tell how old the residents are here, because they're all so alive. Some won't slow down for anything."
Although the Kinnamons are retired from their professions, they've barely slowed down. Ron, who was the Assistant National Executive Director for the YMCA, volunteers with organizations including UCAN (Uhlich Children's Advantage Network), and Interfaith Youth Core.
Sally, who was a nurse practitioner, volunteers at Northwestern Hospital in a couple capacities. As an associate chaplain, Sally said, 'I hope to add a spiritual component to healing, but I also may just be bringing them a cup of soup. We'll do whatever needs to be done." Sally is also part of Norhtwestern's C.A.R.E. program. "We're one of only a few hospitals in the country to offer this. It's an acronym for Care and Respect for the Elderly. We visit with seniors in the emergency room to make long waits more tolerable."
At The Clare, Sally is chairperson of the hospitality committee. "We make sure that new residents feel welcome," she said. Ron is involved with The Clare's Friars Club, which he helped to found. "The goal is to 'learn, serve others, and have fun,'" he said.
Life at The Clare has surpassed the Kinnamons' expectations, "in every way. I had no idea that it would be wonderful to live in the community or to have this amazing staff," said Sally. "Moving here permits you to leave responsibilities and take advantage of the location and amenities. There are opportunities to keep learning, keep doing things, and have a great life. Nobody is sitting around not doing anything. We're interested in being involved with life."
The Clare at Rush and Pearson is a Life Care retirement community in the heart of Chicago's Gold Coast with incomparable lifestyle, amenities and the financial stability only a debt-free community can offer. The Terraces at The Clare, which partners with Northwestern Memorial Hospital, provides assisted living, memory support, rehabilitation and skilled nursing. The Terraces has earned the 5-star quality rating by the Centers for Medicare and Medicaid Services. The Clare is owned by Chicago Senior Care and managed by Life Care Services. For more information visit: http://www.TheClare.com or call 312-784-8100.