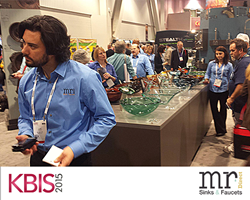 ...Attendees were especially impressed by a variety of items added to the collection since last year's show....
Toledo, OH (PRWEB) February 03, 2015
The first stop on MR Direct's 2015 tradeshow journey was made last week in Las Vegas, Nevada, at the KBIS 2015 show. Well over 100,000 professionals attended this year's show and a large number of them visited the MR Direct exhibit. Staff answered questions covering a wide variety of topics. Concerns ranged from broad issues like, "Why are glass vessel sinks so popular?" to the practical, "What shipping options do you offer?" The answers sparked further interest.
The MR Direct team presented a complete package of products and support to this kitchen and bath market, and attendees were especially impressed by variety of items added to the collection since last year's show. Bathroom basins like the elegant V2102 porcelain vessel, the trendy apron-style sinks crafted in brilliant stainless steel, and even the simple but solid grid drains in three metallic finishes, caused visitors to take note. Both attendees and MR Direct personnel gained insights, which are sure to guide the next moves this industry makes.
From April 14-17, the MR Direct team will be in Orlando, Florida, at the Coverings'15 show. In the expansive Orange County Convention Center, this expo will showcase the latest products, trends, and techniques in the stone and tile industries. More than 23,000 contractors, retailers, installers, etc. attended last year's show, and expectations are that this number will be far exceeded this year. Over 1,000 businesses will set-up booths filled with the latest these trades have to offer.
MR Direct will be featuring its extensive line of stone vessel sinks. Dramatic, durable and distinctive best describe these basins carved from granite, marble, onyx and sandstone. Other models and faucets will also be on-hand for review; as well as the amazing Home Reality app, which allows consumers to view any MR Direct sink, with any popular countertop, in any real location, on their iPad or Android -- virtually. The MR Direct team will be exhibiting in location #4491, and will be available to explain the finer details of their products and to answer any visitor questions. The MR Direct tour can be followed on any of our social media sites or by visiting http://www.MRDirectint.com.