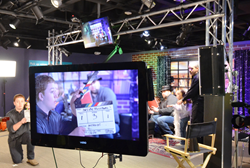 This exhibit explores popular culture through famous television and film produced over several decades. There is something for every generation as families share memories of favorite movies and television shows while creating new memories together
Indianapolis, IN (PRWEB) February 05, 2015
Lights, camera, action, YOU! A visit to The Children's Museum of Indianapolis provides a unique chance to choose a role in front of the camera or behind-the-scenes. Visitors are invited to become a superstar of stage and screen and learn about the fascinating entertainment industry world at Inside Hollywood Film & TV! You're on the Set.
Children and families take center stage on the set of their own TV show and look at real artifacts from films like Annie, Happy Days, Hook, Ghostbusters, Men In Black, Spider-Man and more! Perhaps mom, dad, or child prefers something behind the scenes such as playing the role of a director, cameraman or gaffer. It is each person's choice as they explore comedies, dramas, sci-fi/adventure films and TV shows in the newest exhibit at The Children's Museum of Indianapolis - Inside Hollywood Film & TV! You're on the Set. The interactive exhibit is open January 31 – July 26, 2015.
"This exhibit explores popular culture through famous television and film produced over several decades. There is something for every generation as families share memories of favorite movies and television shows while creating new memories together exploring the industry of stage and screen as it continues to evolve," said Dr. Jeffrey H. Patchen, president and CEO, The Children's Museum of Indianapolis.
Authentic costumes, props and scripts will be on display for inspiration while opportunities for role-playing and hands-on experiences will help illustrate how some of these famous films and TV shows are made. This unique experience allows families to become part of the cast and crew as you put on a super hero cape, glitzy movie star dress with a boa, a witch or pirate costume, astronaut suit, 50s-style skirt or jacket.
As each person creates new family memories, they will definitely want to take pictures with photo opportunities galore. Stand in front of a life-size animated cell and take a picture on the Simpsons couch, or snap a photo sitting on the set of a family member's very own television talk show as the kids interview the grown-ups.
Anyone who has ever had the urge to perform the voice of a cartoon character, now has the opportunity. The exhibit comes equipped with a mini recording studio in which each member of the family can put his or her best character voice to the test and read a script for a popular character. Those who are not sure what character would best describe their personality, is invited to take a quiz to find out. After answering a few short questions, visitors will discover which sitcom family most resembles their own. In the Drama area, find out each individual's character type - classic hero, an anti-hero, evil villain or an insane villain. Or, in the Animation area, discover which famous cartoon character most resembles a member of the family.
Find out more about permanent and upcoming exhibits. High resolution images and professional video with natural sound is available upon request.
About The Children's Museum of Indianapolis:
The Children's Museum of Indianapolis is a nonprofit institution committed to creating extraordinary learning experiences across the arts, sciences, and humanities that have the power to transform the lives of children and families. For more information about The Children's Museum, visit http://www.childrensmuseum.org, follow us on Twitter @TCMIndy, Facebook.com/childrensmuseum and YouTube.com/IndyTCM.