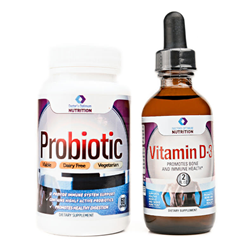 Boosting the immune system is the most effective way to feel better and avoid illness.
Kansas City, KS (PRWEB) February 05, 2015
Doctor's Optimum announces its Immune Support nutrition that is physician-formulated to boost the immune system and support proper digestion.
"Most people are looking for ways to feel better and avoid illness. There are two essential components for a healthy immune system: probiotics and vitamin D-3. When taken together, these nutritional products act in synergy - enhancing and benefiting those who take it by supporting the biochemistry of the immune system. And, when working properly, they enhance the ability of the immune system to obtain optimal support through adequate health," said Dr. Alan Trites.
However, not all probiotics are created equal. Doctor's Optimum probiotic formula was created to be broad spectrum – it can be used any time and is to be used continuously. Some probiotics are only intended to be taken for a week or two following antibiotic use and should be discontinued after that time period. In addition, for a probiotic to perform properly, it is imperative that it gets past the acidic environment of the stomach and arrive in the intestines alive and with enough numbers present to make a difference. Therefore, the capsule must be acid resistant. Many probiotics, and a relatively high number of nutrition supplements, do not have these types of capsules and are killed once they hit stomach acid regardless of number, capsule, or type of probiotic species.
Doctor's Optimum probiotic is based on what is truly a probiotic:

Exists in nature and in our GI system;
Is stable enough and does not need to be refrigerated (refrigeration is an indicator of the instability of a probiotic);
Can pass the stomach acid and has been proven to slow the growth of undesirable bacteria and yeast while supporting the immune response;
Is easy and convenient because it does not require refrigeration
Doctor's Optimum Probiotic is gluten free, dairy free and vegetarian in a viable capsule.
Vitamin D-3 has the highest absorption rate when it is formulated in a liquid composed of fat. It can also be encapsulated and consumed with fat.
Below are the benefits of taking Doctor's Optimum vitamin D-3:
It is:

In a liquid form, can be taken alone or added to any liquid, has no taste;
Physician formulated to increase vitamin D levels;
A quality supplement for musculoskeletal pain, low back pain, diabetes, and autoimmune condition;
Combined with a medium chain triglyceride fat for best absorption;
Biologically active D3 form;
Formulated for all ages, easy to take, no pills to swallow;
Free of: sugar, salt, starch, yeast, wheat, gluten, soy, milk, egg, shellfish, or preservatives.
Doctor's Optimum is a small, family-owned business that began with a doctor's vision to provide better, more effective nutrition products for his patients.